After reading this article you will learn about the role of radio in advertising of products.
The phenomenal growth achieved by All India Radio has made it one of the largest media organisations in the world. Today AIR reaches to 97% of the India population spread over about 90% of the national territory with the help of 177 broadcasting stations.
The introduction of FM channel in Metro centers and at other centers has added a new dimension to broadcasting and has raised the expectations of listeners country wide.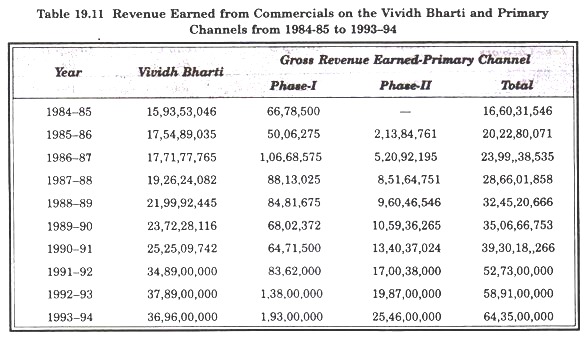 The first radio programme in India was broadcasted by the Radio Club of Mumbai in June 1923. Indian broadcasting service was established in July 1927 at Mumbai and Calcutta simultaneously on an experimental basis.
In 1947, AIR network had only six stations located at Delhi, Mumbai, Calcutta, Chennai, Lucknow and Tiruchirapalli as compared to 177 today. A Radio paying service was introduced by All India Radio, Delhi from 14 January 1995. All India Radio has thus become the first public broadcaster in the Asian Region to introduce such a service using FM transmitters.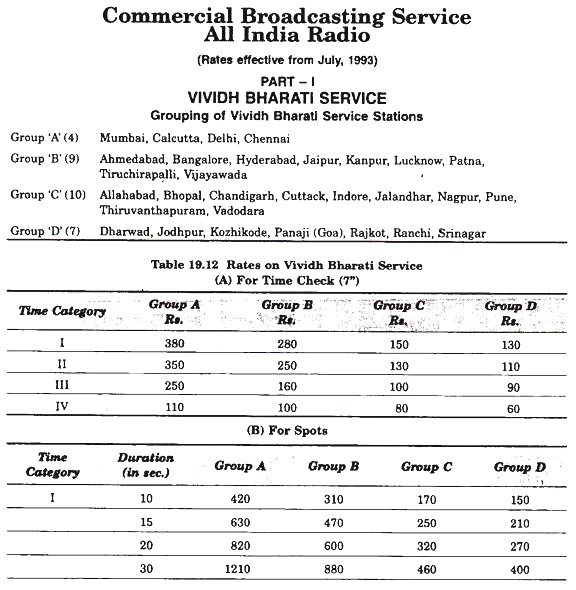 Notes:
(1) Rotation of Spots:
C.B.S. reserves the right to spots through the relevant time period for which the charge is made, unless they are fixed spots and specific time of broadcast is pre-arranged.
(2) Fixed Spots:
Fixed spots which are to be broadcast at a particular time could be shifted, if absolutely necessary, either before or after the fixed time with a maximum latitude of 5 minutes each way. Similarly, in the case of Time-check, C.B.S. has the option to announce the time-check after the conclusion of a song and not at the exact fixed time by cutting the song/programme.
(3) Rates for Time-Check:
Rates for Time-check are inclusive of extra charges (there will be no 25% extra charge for fixed position of time-checks).
(4) Special Concessions:
For Bookings in More Than one Category : If an ad containing the same message is booked in more than one time category on the same day, the client will be entitled to 25% concession on all the ads except one which is in the highest time-category.
Concession is admissible irrespective of the fact whether the spot in category does not arise if the same ad is not broadcast on the same day in the higher category. To avail this concession only one contract should be entered into indicating such concession.