This article guides you about how MNC's are beginning to take over advertising agencies.
Advertising Agencies-Mnc's Begin to Take Over:
With the liberalized economic policies adopted by Dr. Man Mohan Singh in 1991 and further intensification of liberalization by the predecessor, the advertising has become the hunting ground for foreign predators. Indian advertising is now under seize.
It is being predicted that by the year 2000, the top Indian advertising agencies will be MNC dominated. In a few years, all the big and medium sized agencies will be MNC driven while the smaller Indian agencies will have to shift focus to specialized advertising to be able to Survive.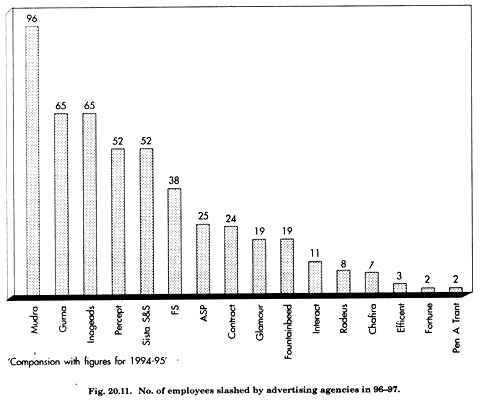 While the big boys of India advertising, Hindustan Thompson Associates (HTA), Lintas (now rechristened Ammirati Puris Lintas after a realignment abroad) and Ogilvy & Mather-have always been foreign controlled, the others are also feeling the heat.
Hectic parleys are currently on between Dentsu Young & Rubicam (DY & R) world-wide and Re-diffusion-DY & R (where DY & R holds 48% of the equity) for full control of the Indian agency by the foreign partner.
At Chaitra Leo Burnett, where Leo Burnett has a 26% stake, the foreign major is negotiating for a bigger slice. Earlier RSCG had broken off its association with Ulka advertising following differences over control. In the longer run D'arcy Masicus Benton & Bowlers-DMB & B—which holds a 20% stake in Madison, Saatchi & Saatchi, which has 10% of Sista and Foote Cone & Belding (FC & B) now trying up with Ulka.
In some ways, these developments are inevitable. The Indian advertising industry is recording a growth rate of 40%. Multinational consumer goods majors are entering with their international advertising agencies, whom they are more comfortable working with.
Today the India has become a growth area. The MNC clients of the advertising agencies have come in, so the agencies would like to have their names also. Today 25% of the Indian advertising spend is from global brands and this will increase to 40% in the next five years.
As the foreign agencies bring in both the business & the technology, they are also wanting control. But the Indian advertising agencies are not seeing it as a sell-out. Rather it is regarded as inevitable fallout of globalization of the Indian economy.
There is a lot of international business to be gained through a tie up and the greater the foreign agency's control in the Indian Joint venture, the greater will be the global client's level of confidence and comfort.
The greater foreign involvement will give the Indian advertising agencies to combine bigger business effort and share more clients. As few admen believe that an International alliance has become a necessity for survival in the business today.
They believe in minority foreign equity participation without divesting full share. Their view is that international agencies have a wealth of experience and provides a learning experience for the Indian agencies.