After reading this article you will learn about the magazine's role in advertising of products.
Magazine Boom:
The general interest and news magazines continued loosing circulation and importance. Though some of them sustained growth, most of them manage to retain their position, and some remained fighting for their survival, some successfully, some not so successfully.
On the other hand, apart from sports and cine journals, special interest magazines which some years back were hard to be seen on book stalls, registered rapid growth with their number and circulation increasing at a phenomenal rate.
One interesting and one of its kind magazine 'parenting' made its appearance in 1993 and was taken to heart by a large number of young couples who did not have a joint family support to bring up their children and lacked the knowledge and training of child care.
Soon, it was joined by another magazine called "young mother", a Megna publication, proved very popular with the young and not so young physical fitness and health conscious set. In 1993 the business India group brought out "Auto India" and made a niche for itself while the other two magazines on the same subject "India Auto" and "Car & Bike" also continued to grow.
"Connect" a magazine on global entertainment information had a new concept and many media pundit doubted the wisdom of its launching in India in 1990. But then came the Gulf war and the need to get up to date information on what was available on the TV Screen through the sky waves.
In similar vein "studio system" a bi-monthly on audio, video and recording industry also found a stable readership to bank upon. "Eating out" on food and beverage, "Indian Thoroughbred" on horse-rearing, "Golfingly yours" for the golf aficionados, and, with "Bombay Dost" for the homosexuals thrown in, one can be sure that the magazine boom has come to stay here.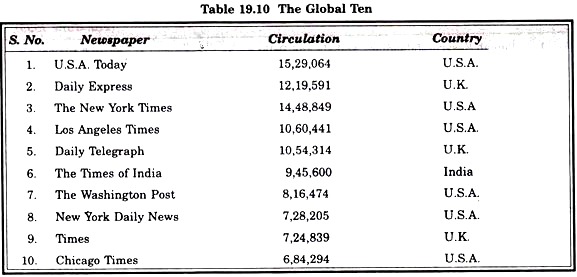 Price War:
Taking a cue from the cut-throat competition and the resultant no holds a barred price-war going on England and Europe among the prominent newspapers, the Times of India launched a blitz on the Hindustan Times, Delhi. The Hindustan Times sells more than double the copies sold by Times of India in Delhi and despite every other effort the position remained the same till 1993.
Then in early 1994 The Times of India slashed its price by 80 paise and started selling at Rs.1.50 a copy The Hindustan Times did not bother for some-time thinking this gimmic too would pass without cresting a ripple. But that was not to be.
The Hindustan Times started loosing circulation and very soon the loss was substantial and so was the gain for Times of India. Ultimately Hindustan Times also followed suite reducing its price to Rs.1.50. This sent shock waves to Indian Express and the New comer. The pioneer which were badly hit and had to join the price war reluctantly.
Other newspapers were also hit but had to suffer silently as they could not offered the price-cut since they did not have the kind of advertisement revenue which could make up for the losses suffered by cutting the price. Till going to the press the price war was incurring substantial losses to all these newspapers.
In this war only the reader who is the gainer, now getting two prestigious and bulky newspapers for the price of one. Fortunately, the price war remained confined to Delhi and did not spread to other publications and publication centers. Otherwise, the result would have been disastrous and many medium sized and small newspapers would have been ruined beyond redemption.