After reading this article you will learn about the advertising boom in India, explained with the help of statistical graphs.
Advertising expenditure is glowing rapidly in India where companies are using an increasing number of new cable and satellite channels. Zenith Media, the media planning and buying arm of Cordiant Plc., which also owns Saatchi and Saatchi Advertising, said that only 40% of all households in India have TV sets, but that still made India the second biggest potential television market after china.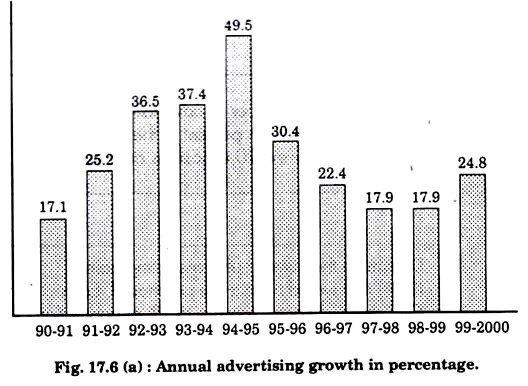 Advertising industry in terms of advertising expenditure touching the new heights. For the five consecutive years from 1990-1995, the pace of advertising growth kept increasing, attaining an unbelievable 49-5% in 1994-95, the climax of India's first major economic boom. The decline since then has been steady but the last year (99-2000) the growth rate crossed the 20% mark and showed the growth rate of 24-8%.
Top Advertising Spenders:
The A & M survey of India's top 200 ad spenders in 1999-2000 comprises companies with ad spend ranging from 98 crores to 715.40 crores (Table 17.3). The top 10 biggest ad spenders account for over 30% of the aggregate spend.
The sales of the Top 200 advertisers (with published Annual Reports for India) was Rs. 167 412 8 crores in 1999-2000 as against Rs. 174,537.0 crore in 1998-99.
This marked a 4.1 percent fall The adspend of the Top 200 companies fell marginally by 1.9 per cent to Rs. 3 865 6 crores in 1999-2000 from Rs. 3941.7 crores in 1998-99. The declining trend holds true for ad-spends, as ad-spends of the Top 200 companies as a percentage of sales stood at 2-3 per cent, same as last year.
The aggregate sales of the Top 200 marketing spenders on the other hand, were Rs. 189,677.9 crores compared to last year's Rs. 204,865.0 crores. The marketing spend of the top 200 marketing spenders fell by a huge 9.6 per cent.
While it was Rs. 4,623.8 crore last year the figure this year (99-2000) is only Rs. 4,181.4 crore. Last time there was an increase of 17 per cent 71 companies out of the 200 ad-spenders are new entrants to the list, compared to a paltry four last year. The shift towards the 'new economy' is apparent, with sunrise industries making their presence felt strongly. The top marketing spender's list has 94 new entrants.
Another's notable revelation is that FMCG companies are storming the Top 10 ad-spenders list Compared to five last year, six FMCG companies make it to the Top 10 advertisers list. The Top Five marketing spenders' list is a different story altogether.
Last year's leader, Maruti is no more in contention. It is Ashok Leyland this time, with Reliance Industries reaching No. 6 from last year's No. 11. It is a similar trend in ad-spends.
There are six companies with ad-spends crossing the Rs. 100 crore mark (99-2000), compared to last years five Marketing seems to have caught up with as many as six companies spending over Ks. 100 crore compared to last gear's four. Barring Ashok Leyland and Asian Paints, the other companies are first-time entrants in the 'over Rs. 100 crore' marketing spend club.
Under the individual ranking, the Hindustan Lever Limited (HLL) tops the list with ad spend of Rs 715 40 in 99-2000, this ad spend is more than 15% of the total of the 200 companies surveyed The total ad spend of 200 companies in 99-2000 was 3865.6 crores.
Colgate-Palmolive and ITC are at second and third place respectively. Britannia and Bajaj are two new entrants in the top ad spenders list. Table 17.1 states the top 25 Ad spend hikers and Table 17.2 states the top 25 Ad spend slashers.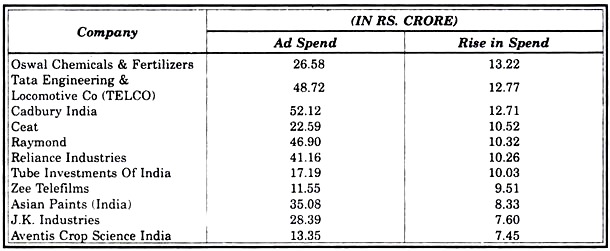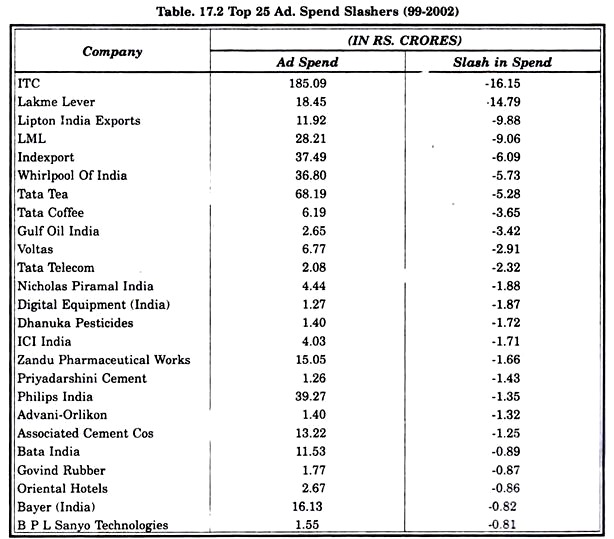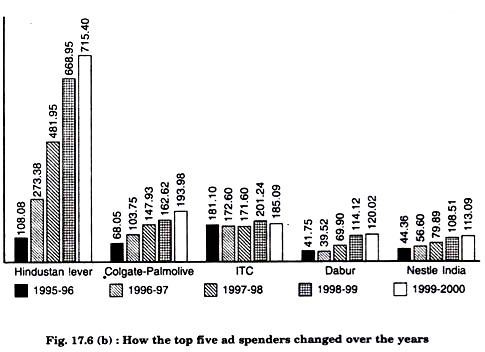 With in product categories, however, there are some broad patterns. For example, automobiles and cosmetics and toiletries companies spend more on advertising then on marketing. The absolute spend by categories (fig. 17.6(c)) states that the most striking growth is displayed by automobiles followed cosmetics and toiletries, drug and pharmaceuticals etc.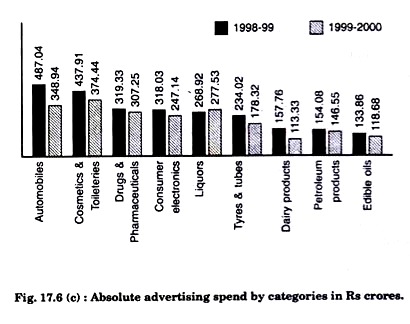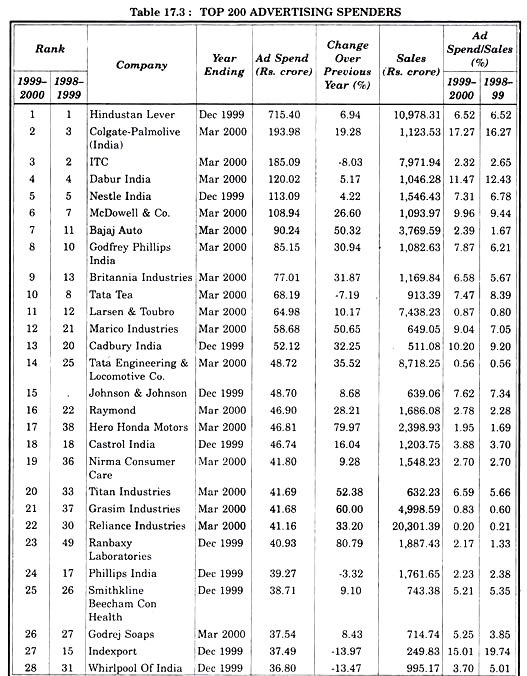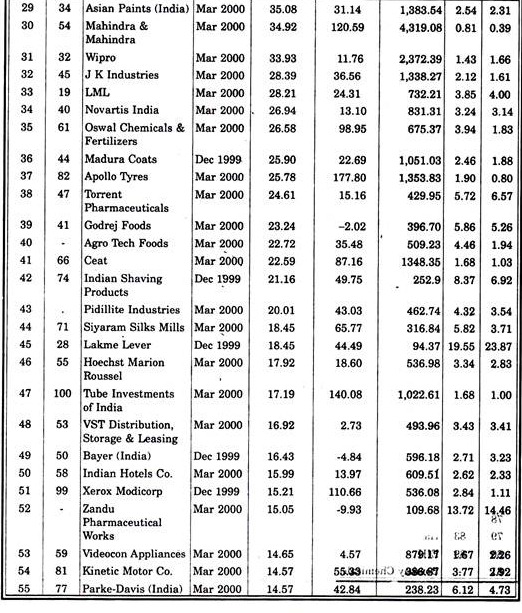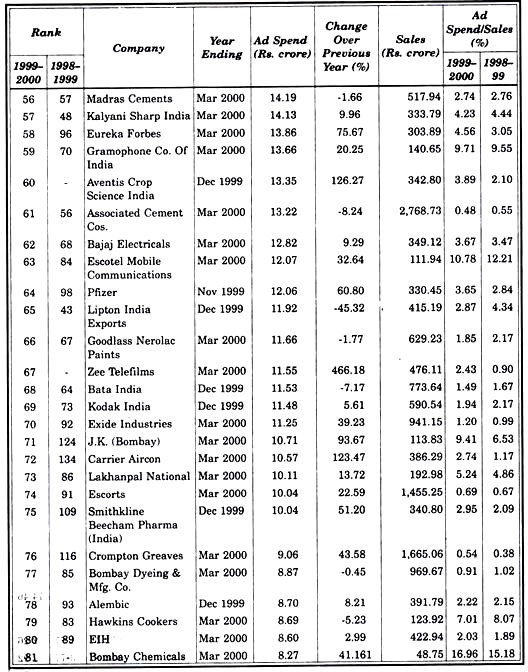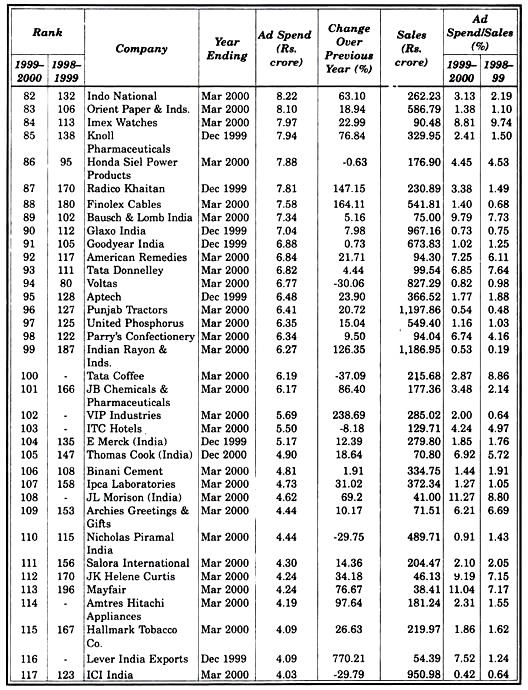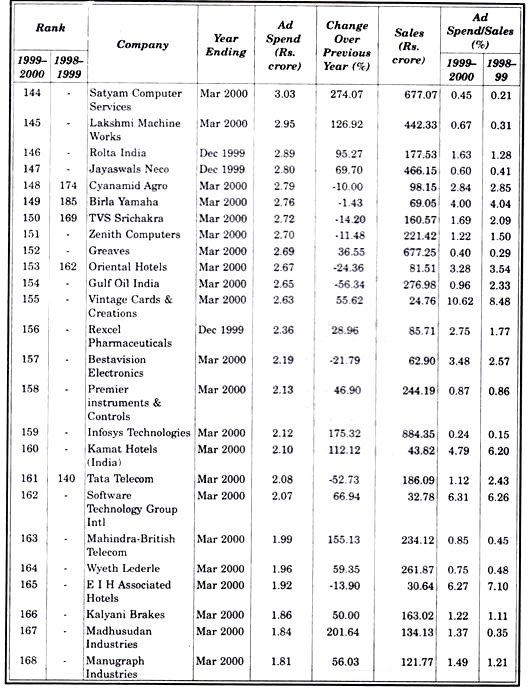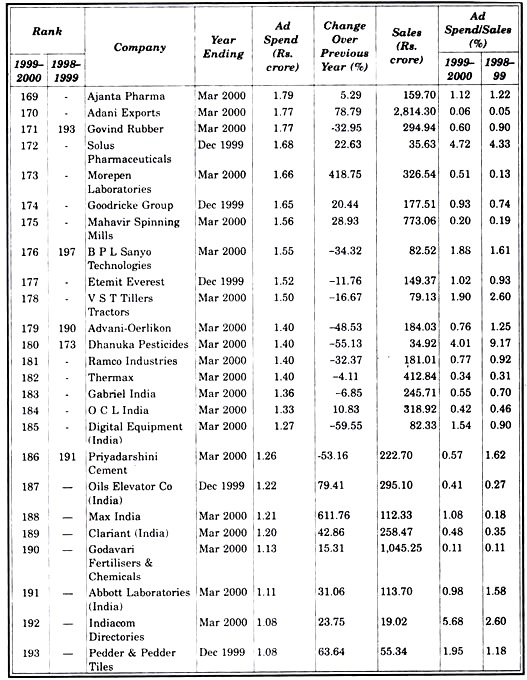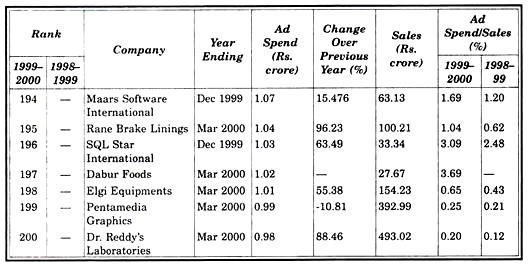 Data includes expenses on advertising and sales promotion. All the expenses incurred on promotion of goods and services are included. Expense item such as advertising expenses, exhibition expenses, free samples, sales promotion expenses form part of this accounting head.