After reading this article you will learn about Sales Promotions:- 1. Meaning of Sales Promotion 2. Types of Sales Promotion.
Meaning of Sales Promotion:
Sales promotion includes those marketing activities, other than personal selling, advertising and publicity, that stimulate consumer purchasing and dealer enthusiasm and effectiveness, such as displays, exhibitions, shows, demonstrations, free samples, trading stamps, and various non-recurrent selling efforts not in the ordinary routine.
Sales promotion is the plus ingredient in the marketing mix, whereas advertising and personal selling are essential and basic ingredients in the marketing mix.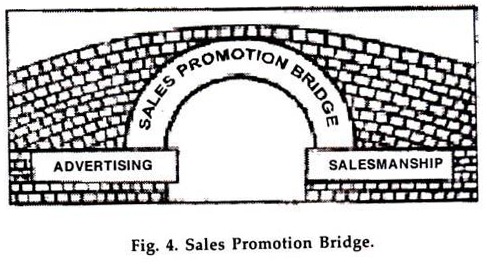 Sales promotion is a vital bridge or a connecting link removing the gap between personal selling and advertising, the two wings of promotion. The sale of a product has to be promoted or encouraged through a number of influences at the point of purchase where retailers and prospective customers meet face-to-face.
Sales promotion may stimulate or boost consumer buying at the point of sale or improve dealer effectiveness at the retail outlets.
Types of Sales Promotion:
1. Consumer Sales Promotion:
It covers all marketing activities to educate or inform the consumers and those intended to stimulate their demand.
These devices are:
a. Distribution of free samples.
b. Free demonstration at retail shops.
c. Issue of coupons to be accepted as cash by retailers while selling the product.
d. Premium offers in the form of free gifts, e.g., key chains,, ball pens, plastic mugs, dinnerware, etc.
e. Price-off e.g., Rs.1 off price-off label printed on the package.
f. Contests among customers.
g. Fashion shows and parades.
h. Exhibition-cum-sale with varying discounts ranging from 10% to 50% on the listed prices.
i. Issue of Trading Stamps against all purchases in specific retail shops.
2. Dealer Sales Promotion:
These promotion devices or helps are given to dealers:
I. Free display material to retailers.
II. Free window display services.
III. Free demonstration and trial at retail shops.
IV. Trade deals offering special trade discounts.
V. Free deals, e.g., one package free on buying ten packages.
VI. A special gift for an order given to the dealer.
VII. Training of retailers' sales force.
VIII. Sales contests for salesmen.
IX. Advertising display allowances.