This article throws light upon the four alternative ways for growth in sales and profits. The ways are: 1. Market Penetration 2. Market Development 3. Product Development 4. Diversification.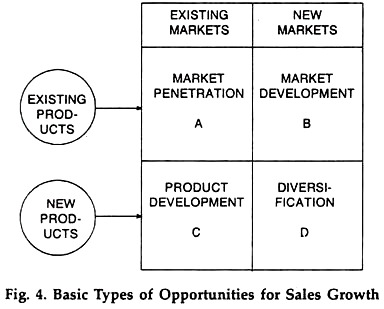 Growth in Sales and Profits: Way # 1.
Market Penetration:
It involves expansion of sales of existing products in existing markets by selling more to present customers or gaining new customers in existing markets. The firm can market its present products to existing markets (Cell A).
This is done through a more aggressive marketing mix. Customers from rivals or potential buyers can also be attracted. Existing buyers may be induced to increase their rate of use. We may have temporary price cut to raise the volume of sales and penetrate the market.
Growth in Sales and Profits: Way # 2.
Market Development:
In Market development a present product is introduced to a new market or segment. Market development is the creation of new markets by discovering new applications for existing goods, e.g., minibus may be made available for goods or passengers.
The firm can offer its existing products to new markets (Cell B). This is another alternative to expand market opportunity, prolong product life cycles, profitability and survival.
Growth in Sales and Profits: Way # 3.
Product Development:
Product development occurs when a firm introduces new products to a market in which it is well established. Product development is the introduction of new products in the present market, e.g., new synthetic fibres for known textile products.
The firm may decide to create new products for existing market (Cell C). Established firms with high customer patronage may have new product additions upon existing market successes. The firm by offering new or unproved products to present markets can satisfy better the present customers.

Growth in Sales and Profits: Way # 4.
Diversification:
Diversification occurs when a firm seeks to enter a new market with a completely new product. Such a firm has neither market expertise nor product knowledge. The firm may adopt a daring strategy by creating new products for entirely new markets.
Only innovating marketers venture to go in for diversification of products. The strategy is risky but the innovator can have spectacular results. In 1950, Polaroid camera and television were in this category in many countries.