After reading this article you will learn about Resale Price Maintenance (R.P.M.):- 1. Meaning of Resale Price Maintenance (R.M.P.) 2. Arguments in Favour of R. P. M. 3. Arguments Against.
Meaning of Resale Price Maintenance (R.M.P.):
Resale price maintenance or R. P. M. is a marketing policy adopted by one or a group of manufacturers. It is also called fair trading. R. P. M. agreement between the manufacturer and dealers under which all retailers are bound to sell the branded goods at a certain fixed retail price and no retailer shall sell the branded product below the fixed resale price to the ultimate consumers, even though he may be able to sell at a lower price due to his lower operating costs.
Illustration:
Store A:
It is a non-service supermarket or a discount house selling on cash and carry system. It has large volume of sales but low operating costs. Hence, it demands minimum price of Rs. 4 per unit to make a normal profit.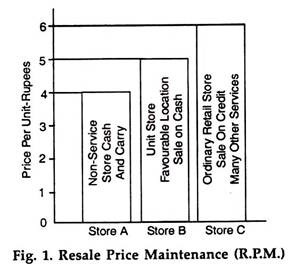 Store B:
It is a retail shop at a favourable location and selling on cash basis. It has also lower operating costs and demands Rs.5 per unit to make a normal profit.
Store C:
It is a retail store at ordinary location. It gives credit and offers many services and amenities to its customers. Hence it has higher operating costs and demands minimum price of Rs.6 per unit to make normal profits. Such types of retail stores are numerically strong and hence demand protection against price competition from the retailers of A and B types.
In a price free competitive market we may have three different price quotations from the aforesaid retailers. In the absence of R. P. M. practice retailers are free to fix their own resale price.
Buyers could decide whether it was worthwhile to pay cash and forgo all other services in lieu of lower price, viz., Rs.5 or Rs.4 per unit, or use credit and enjoy many other amenities and services offered by the retailers of 'C' type. Of coarse they will have to pay higher price, viz., Rs.6 per unit in exchange of credit and many other facilities, e.g., free home delivery, right to return the goods, if not approved, etc.
When a manufacturer decides to set a minimum uniform fixed retail price, he would naturally consider the genuine demands of 'C' type retailers who are usually numerous. Hence, resale price will be fixed on the basis of operating costs of 'C' type retailers.
It will be Rs.6 per unit. Otherwise store 'C' would be unable to handle the product. When we have R. P. M. agreement, all retailers will be obliged to sell goods at one fixed price. Now store A' or store 'B' cannot sell goods at Rs.4 or Rs.5 per unit even though they are capable to offer lower price quotation to their customers.
Arguments in Favour of R. P. M.:
1. R. P. M. offers uniform, fixed retail prices and prevents unhealthy price competition among dealers.
2. Absence of price competition offers protection to small volume high cost retailers who are numerically strong even in advanced countries. They have no fear from large retailers at least on the price front.
3. New firms can easily enter trade as there is no danger from price war led by established retailers.
4. Consumers have no problem of bargaining as we have uniform fixed prices in all shops. Variable pricing creates risk of loss to buyers. Incidentally they can get benefits of non-price competition.
5. There is no problem of loss leader selling.
Well-known, widely advertised leading brands are used as loss leaders deliberately by retailers. These brands are sold at a lower price to attract customers. The loss incurred in the sale of these brands is more than compensated by gains due to additional sales of many other products. Loss leader is really a profit leader and it is a device of sales promotion. Under R. P. M. this practice of loss leader sale is impossible.
Arguments Against R. P. M. Practice:
1. R. P. M. Practice kills competition. When a group of sellers have common fixed price, it amounts to collusive price fixing and leads to evils of monopoly. Free price competition alone can safeguard consumer interest.
2. As R. P. M. is on the basis of high cost low volume retailers, it amounts to premium on inefficiency
3. Consumers cannot have benefits of price competition. In absence of R. P. M. practice, large retailers can give the benefit of lower prices to consumers due to their lower operating costs. This advantage is denied to consumers and they are penalized unnecessarily whereas high cost retailers are literally subsidized and they have no incentive to increase their efficiency.
4. R. R M. practice prevents distributors to sell their private brands at lower prices, even though they can sell those brands at lower prices. These private brands are identical in all respects to national brands as both are produced by the same manufacturer.
In short, apparently, the R. R M. practice was expected to be fair trading, primarily to ensure price stability in retail trade. In reality, however, it turned out to be a blessing in disguise. It puts a premium on inefficiency and discounted efficiency in retail trade, with the result that ultimate consumer interest was simply sacrificed.
From consumer point of view, R. R M. practice is too weak. Bulk of the consumers are of limited means. They are price conscious, they do not insist on services and amenities but they want to enjoy the benefit of lower prices or fair prices.
This is assured only through competition among traders. R. R M. prohibits price competition and consequently consumers are denied the benefits of lower prices. Consumers who are rich in the minority.
They are not willing to forgo amenities and services and they are prepared to pay higher prices. For such a minority group R. P. M. is a boon. Hence, R. P. M. is not socially justifiable. Similarly when it subsidies inefficiency, it has no economic justification also. The R. P. M. wanted to substitute competition in service (non-price competition) for competition in price (price competition).
The phenomenal development of self-service store reflects faithfully the consumer choice. R. P. M. is now recognised as an unfair trade practice even in India and M. R. T. P. Act, 1969 has given due protection to Indian consumers against R. P. M. practice. In U. S. A., U. K. and in many other countries it was abolished long ago.