After reading this article you will learn about the meaning and advantages of mobile CRM.
Meaning of Mobile CRM:
Mobile CRM gives you anytime, anywhere access to real-time information from wherever you need to work. Using your iPhone, Blackberry, Droid, Windows Phone or any other mobile device, you'll stay, informed, and ready to move the deal forward.
Your customers today have greater expectations than ever for rapid response. People in your organization – field sales and service staff, mobile professionals, and executives – need the right information at all times, to respond to these demands.
A proper mobile CRM software solution is the key to this success. Mobile devices, including BlackBerry®, iPhone™, Google Android™, Windows Mobile®, Nokia®, Palm® and other popular smartphones, have become critical tools to compete effectively.
Now, with Maximizer Mobile CRM, including CRM for BlackBerry, CRM for iPhone, CRM for Google Android, CRM for Windows Mobile and CRM for Nokia (Symbian OS) you can go beyond reading and reacting to email – and be proactive about managing your customers and winning more deals.
Your laptop or Internet connection is not always available when you need to look up the latest status of an account's last service call, review the latest proposal, or check notes for the last phone call with a prospect. Don't let this hinder your mobile staff from succeeding in the field.
Advantage of Mobile CRM:
Equipping your staff with mobile CRM software gives you the edge over your competitors with access to accounts, sales deals, service cases, and schedules while on the road. No more waiting for a laptop to boot up, or fumbling through account notes before an important sales call.
Get your staff using Mobile CRM software today to:
1. Get the edge on your competitors to win more deals
2. Reduce staff downtime and increase field productivity with access to customer informa­tion at all times
3. Increase customer face time by reducing time spent on office administration
4. Build customer intimacy by reviewing up-to-date customer details before a meeting
5. Improve sales forecast accuracy through real-time updates from the field
6. Increase CRM data accuracy: an easy-to-use interface on a familiar mobile device increases the likelihood that sales reps will update customer information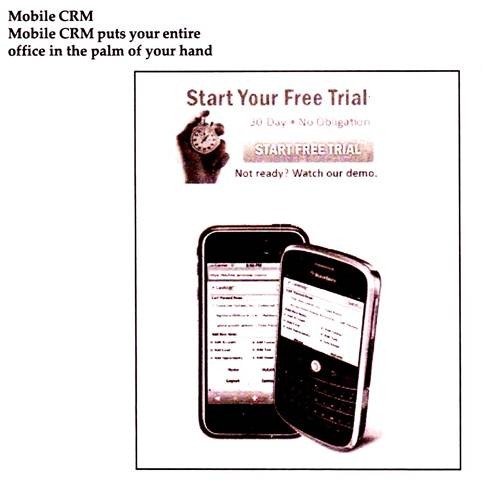 Sleek and Powerful CRM Software with Performance that Really Performs:
Landslide CRM is all about making things simple and Mobile CRM makes it even easier to stay connected to your business. And it doesn't matter what platform you use, iPhone, Blackberry, Android, or Windows Phone. Mobile CRM gives you full, real-time access to the same information you work with every day – from wherever you need to work. There's nothing to download, install or configure.
Simply view the mobile-optimized page, log in and you're ready to work! Get complete contact information, review meeting notes and customer details, download documents, view reports and more – all in the palm of your hand. Then, when the sales call is over, you can quickly update the opportunities, view new leads and do more. All from the road. How simple is that?
Mobile-Optimized Technology You can Really Work with:
Mobile CRM gives you the flexibility to be where you need to work – without being out of touch with your critical information. Using your smartphone, you can access all of the same data, reports, and more, just as if you were at your desk. And because Landslide CRM is already simple to use, Mobile CRM makes getting to your information even easier.
i. Easy to use and familiar navigation:
The intuitive interface was designed for the mobile user, making it easy to get to your information in the fewest clicks.
ii. Complete account and contact information:
Access complete profiles of your clients, cus­tomers, and accounts including all related notes and updates – in real time. Review your reports – Review the same reports you use every day to stay informed and on top of your sales pipeline.
iii. Add and update:
Easily create new opportunities, update existing ones, and add notes to the system.
iv. Review Your Last 5 Items Viewed:
Add accounts, opportunities contacts, tasks, events Quick access to My Lists Search
v. Review Correspondence Associated With Your Deals and Contacts:
Stay up-to-date and informed with easy access to all of your correspondence, including notes, emails and more.
vi. Manage and Update Your Opportunities:
Keep your contact and customer information up to date easily and effectively. Update Deal Value & Confidence, Process Progress, Forecast Date, Contacts, Notes and Emails, Tasks, Events and more.