Here is a detailed case study on ITC which is one of the leading industries of India.
ITC is one of India's foremost private sector companies with a market capitalization of nearly US $18 billion and a turnover of over US $4.75 billion. It is rated among the world's best big companies, Asia's Fab 50 and the world's most reputable companies by Forbes magazine.
It has also been rated as one among India's most respected companies by the Business World and among India's most valuable companies by Business Today. ITC also ranks among India's top 10 "most valuable" (company) brands, in a study conducted by Brand Finance and published by the Economic Times.
ITC has a diversified presence in cigarettes, hotels, paperboards & specialty papers, packaging, agri-business, packaged foods & confectionery, information technology, branded apparel, personal care, stationery, safety matches and other FMCG products.
ITC made its entry into the branded and packaged foods business in August 2001 with the launch of the Kitchens of India brand. A more broad-based entry has been made since June 2002 with brand launches in the confectionery, staples and snack foods segments.
ITC Foods has three plants — one Pune and two in Haridwar (Uttaranchal). Pune plant has the facility to produce premium biscuits along with snacks while the other two are purely for the manufacturing of snacks.
The turnover of the company for the last three years is as follows:

In addition to the existing manufacturing setups the company has established contract manufacturers in different parts of the country.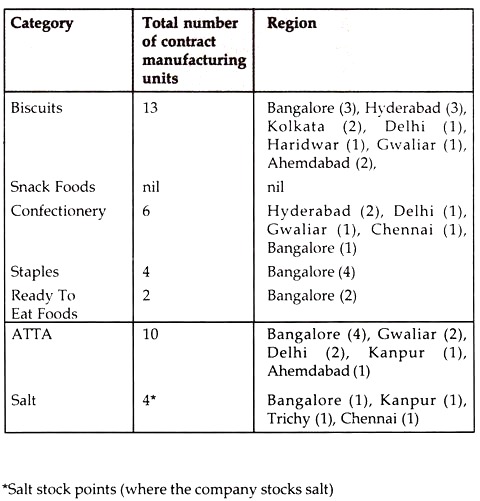 The company manufactures seven different products constituting 1,222 SKU's. The company does not outsource manufacturing of snacks but manufactures in its own units, which are located in Pune and Haridwar.
ITC has 13 hub (warehouses) all across India (spread over 20,00,000 sq. ft.) which are located is the following places:
Hasangar (In Haryana, biggest of all, which works as the central warehouse), Delhi, Kanpur, Kolkata-l, Kolkata-2, Vizag, Gwalior, Trichy, Bangalore, Hyderabad, Ahmedabad, Chennai and Chandigarh.
The warehouse dispatches is divided in to three categories:
1. K1 (local i.e. in same district wholesale dealer).
2. K2 (hub to hub stock transfer).
3. Up country (in the same state other than the city in which the hub is present).
The company has certain inventory norms based upon the total sales (dispatch) from each hub (warehouse). As per the norms, each hub should have a minimum inventory level.
a. Norms of biscuit inventory – 10 days of average dispatch.
b. Norms of atta inventory – 3 days of average dispatch.
c. Norms of confectionary inventory – 7 days of average dispatch.
d. Norms of snacks inventory – 10 days of average dispatch.
e. Norms of ready to eat foods and staples-one month of average dispatch.
ITC food supplies its product to four different verticals (or different types of customer):

Note:
1. The consignment is not shipped if the load is less than 33% (two types of trucks are used which are four and nine tones).
2. Transportation rates are according to the distance irrespective of the load (a truck can take a full load capacity).
3. All dealers and distributors are concentrated near the warehouse (K1 route followed).
4. No set routes (material is transported to respective verticals from that hub where the cost of transportation is minimum).
The company's distribution system is as follows: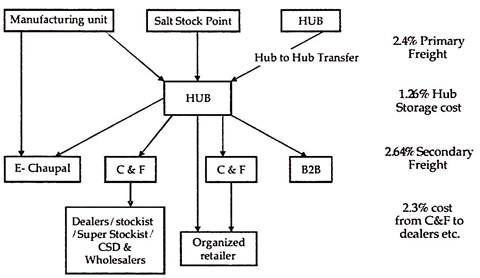 The company holds the title of goods till the stock is delivered to the verticals i.e. cost of logistics is bared by the company.
Since the company is growing and business is expanding, present distribution system does not support the desired level of service. So these is a need felt to redesign its distribution system to enjoy the economy of scale. Presently the company moves the products from factory to hub (all located in the outskirts of the respective cities) and transfers the goods to respective verticals as shown in the diagram.
At present 12,000 stockist, dealers, etc. are catered by ITC Foods which also supplies to major organized retailers, E-chaupal (own SBU) and B2B. The outbound logistics cost is around seven per cent (average) on sales value. The industry norms for outbound logistics are around 3.5-4.0%.