Here is case study on IKEA which is one of the largest home furnishing retail store across the world.
Introduction to IKEA:
The IKEA concept is based on offering a wide range of well designed, functional home furnishing products at prices so low that a large number of people will be able to afford them. Rather than selling expensive home furnishings that only a few can buy, the IKEA concept makes it possible to serve the many by providing low-priced products that contribute to helping more people live a better life at home.
The IKEA concept guides the way IKEA products are designed, manufactured, transported, sold and assembled. All of these factors contribute to transforming the IKEA Concept into a reality.
Today, the IKEA trademark represents the leading home furnishings brand in the world with more than 235 stores in more than 30 countries and 1,10,000 co-workers. IKEA was ranked 42 by Business Week magazine in its list of top 100 global brands for the year 2007. In January 2007, IKEA was placed third in Brand Channel's fourth annual Reader's Choice Awards for the global brand with the most impact in 2006.
According to the Brand Channel rankings, IKEA was the top brand in Europe and Africa. IKEA is the world's largest furniture retailer that specializes in stylish but inexpensive Scandinavian designed furniture. IKEA's success was attributed to its vast experience in the furniture retail market, its product differentiation and cost leadership.
IKEA held a market share of not more than 10% in the markets in which it operated. In spite of this, it had been successful in almost all countries, because of public awareness of the IKEA brand. IKEA targeted middle class customers worldwide. It made shopping easy for customers.
For example, right at the entrance of the store, customers could drop their kids at the playroom which had many types of safe play equipment, and then shop on their own at leisure. The stores were constructed in the form of a circle, to allow shoppers to view all sections of the store.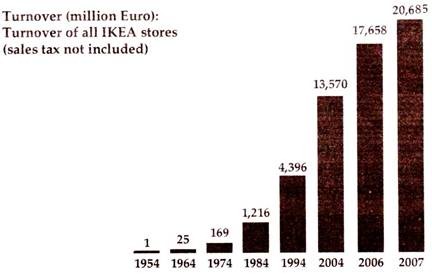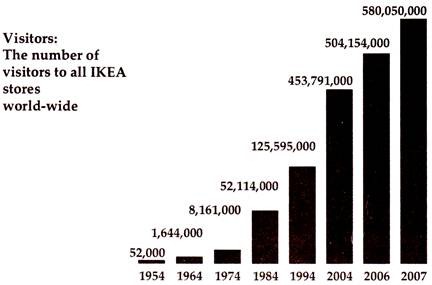 IKEA's Initial Global Expansion Strategy:
IKEA's Global Expansion Strategy was originally established in the 1940s in Sweden by Ingvar Kamprad. IKEA has grown rapidly in the recent years to become one of the world's largest retailers of home furnishing. IKEA stuck with the vision, articulated by founder Kamprad that the company should sell a basic product range that is "typically Swedish" wherever it ventures across the world.
The company also remained primarily production oriented, that is, the Swedish management and design group decided what it was going to sell and then presented it to the worldwide public—often with very little research as to what the public actually wanted. Moreover, the company emphasized its Swedish roots in its international advertising, even going as far to insist on a "Swedish" blue and while color scheme for its stores.
IKEA had same culture all across its stores. It chose to maintain some level of standardization as it wanted to give its consumers a Swedish experience and it believed that excessive localization would not allow it to maintain its exclusivity and would become just one of several such stores in the country where it operated.
As the world's most competitive retail market, the US has a well-deserved reputation — a graveyard for foreign retailers and especially for Europe's non-food retailers. Even Britain's Marks and Spencer had struggled to make a success of its acquisition of Brooks Brothers.
But Swedish firm made a grand success by entering in America success in America. Its secret seemed to be a classic example of the difficult art of "Change management." IKEA draped itself in the start and stripes by adapting but not destroying its original formula.
Localization in Global Markets of IKEA:
According to IKEA, the company's target market was the global middle class which shared buying habits. IKEA's Billy bookcase, Lack side table and Ivar storage system were best-sellers worldwide. The customer spending pattern was also similar across countries. Despite these similarities, IKEA realized that to strengthen its presence in the global market, it was necessary to localize.
IKEA's advertising campaigns were based on unique marketing conditions and cultural sensibilities of each country, which varied significantly across markets. For example, European advertisements, especially in the UK, were more straight-forward than those in North America, which were generally more witty.
IKEA was present in some countries such as Canada, Austria and Germany for over 25 years while in countries such as the US, Britain and Italy, it had been around for only a little more than a decade. Due to different cultures among different countries, IKEA has to face some additional challenges, such as social culture, various demands, and different taste, etc. For instance, the Americans like to sink into a large, soft sofa whereas Europeans prefer to sit on the edge.
Major Players in Home Furnishing Products Stores:
The country's leading organized retailers in this segment are optimistic of achieving a consistent 20% per annum growth in sales turnover in the next four years. On an average, they nearly doubled the number of their retail outlets in 2006 as compared to the previous year and all of these outlets are gigantic in size as is evident from the fact that retail space has increased five-folds in one year.
This sector has been a witness to the entry of major retail players launching or planning to launch home fashion chains, such as the Dubai-based Landmark Group's Home Centre, Future Group's Home Town (yet to be launched), Textile major S Kumars' Carmichael House, Godrej Lifespace and Godrej Interio from Godrej & Boyce Mfg. Co Ltd, @ Home from Nilkamal Ltd and K Raheja Group's HomeStop to name a few.
The Bangalore based branded mattress major, Kurlon Ltd, has also launched its exclusive brand stores — Kurlon Nests — in major cities and is expanding its range by venturing into soft furnishings and home linen too.
In recent times there have been quite a few players emerging with innovative retail formats within this segment. The first stainless steel home accessories brand outlet, Magppie, the Tata Group's Steeljunction, Hindalco's Aluminium Gallery and Jindal Steel's artd inox brand outlets are cases in point.
Godrej and Boyce Mfg Co Ltd runs two home retail chains in India — Godrej Interio and Godrej Life-space. Godrej Interio is an interior solution for homes, offices and special projects, and has 125 stores across India, and plans to have 150 stores by the end of this financial year. Turnover from this retail venture was to the tune of Rs. 600 crore in 2005-06 targeting a growth of 33 per cent, with plans of hitting Rs. 1,500 crore by 2010.
The challenge to home improvement retail business is the extent to which organized retailers succeed in reaching lower down the income scale to reach potential consumers towards the bottom of the consumer pyramid. However, distribution continues to improve, though it still remains a major inefficiency.
Poor quality of infrastructure, coupled with poor quality of the distribution sector, results in logistics costs that are very high as a proportion of total cost and inventories, which have to be maintained at an unusually high level. This coupled with disparity in taxes across states make movement of goods across the country difficult. Import of products in this category has high tariffs — making availability of affordable merchandise a constraint.
Mall management is also a big challenge to the Indian retail industry. Home improvement retailing requires large space at an affordable retail cost. The current rentals defy this. Also, these products are typically purchased with proper planning and expense requirement.
This calls for focused retail space availability for home improvement products. This scene is similar in the international retail industry. Further small shops in this category are given the last priority for space selection in malls, giving lower benefit from the footfalls of its target group in a mall. Marketing is a huge cost in Indian consumer market.
IKEA in India:
Realty major DLF is in talks with the world's largest home furnishings retailer, Ikea, in a bid to bring the Swedish brand into India. The developer is looking at a joint venture with Ikea on a sharing ratio that is yet to be finalized. The proposed tie-up is in line with the Delhi-based builder's ambitious plans to bring in a number of foreign retail brands into India, especially in the luxury sector like Armani, Versace, Gucci, Salvatore Ferragamo, D&G etc.
Their entry into India will be in the form of a joint venture and not a franchisee model. This means that Ikea stores will be set up in any space across India and not just in DLF's malls. Once finalized, Ikea is expected to give tough competition to Home-Town, home improvement stores launched by the Future Group last year.
Changing lifestyle aspirations of Indians have seen a sizeable increase in demand for branded furniture and furnishings and organised players have been quick at anticipating the same. As a result, the organised segment in furniture and furnishings has registered 20.6% year-on- year growth in the last two years.
Its share in the organised retail stands at seven per cent while it accounts for only three per cent of the overall retail market in India. Almost all large organised players have set up separate retail divisions for home and office furniture and furnishings. Even the unorganised retailers are now seen to be aggressively promoting their outlets and renovating their stores to attract the customers.