Here is a compilation of top three case studies on retail management.
1. Case Study on Tiffany & Co:
"Tiffany's global retail operations once again demonstrated the ability to generate strong operating earnings growth despite weakness in certain individual country markets. Our continued expansion throughout Asia and Europe should contribute to increasingly consistent and resilient long-term earnings growth," says Michael J. Kowalski, the chairman.
Tiffany & Co. is a holding company that operates through its subsidiary companies ("company"). The company's principal subsidiary, Tiffany and Company, is a jeweler and specialty retailer, whose merchandise offerings include an extensive selection of jewelry, as well as timepieces, sterling silverware, china, crystal, stationery, fragrances and accessories. Through Tiffany and Company and other subsidiaries, the company is engaged in product design, manufacturing and retailing activities.
Tiffany was founded on September 18, 1837 when Charles Lewis Tiffany opened a stationery and fancy goods emporium at 259 Broadway in New York City. Every article was marketed with a non-negotiable selling price, a revolutionary policy that made headlines.
The first day's store sales were total five dollars in downtown Manhattan. Soon after the company was founded a distinctive shade of blue was chosen to symbolize the company's renowned reputation for quality and craftsmanship.
Tiffany as a Brand:
The company adopted the color for it's for use of boxes, catalogues, shopping bags, brochures, as well as advertising and for other promotional materials. Over time, this lustrous color became an identify mark for Tiffany & Co., universally recognizable as the Tiffany blue. Tiffany blue boxes and shopping bags evoke images of elegance and exclusivity, as well as lush bounty. The Tiffany blue box was later to become an American icon of style and sophistication.
Distribution of Tiffany & Co:
The company's channels of distribution are through: U.S. retail (50% of fiscal 2006 sales) consists of retail sales transacted in Tiffany & Co. stores in the United States and sales of Tiffany & Co. products through business to business direct selling operations in the United States; International Retail (38% of fiscal 2006 sales) consists of sales in Tiffany & Co. stores and department store boutiques outside the United States and, to a lesser extent, business- to-business, internet and wholesale sales of Tiffany & Co. products outside the United States.
Direct marketing (seven per cent of fiscal 2006 sales) consists of Internet and catalog sales of Tiffany & Co. products in the United States; and others (five per cent of fiscal 2006 sales) consists of worldwide sales of businesses operated under trademarks or trade names other than Tiffany & Co. (i.e., Little Switzerland and Iridesse). Others also include wholesale sales of diamonds obtained through bulk purchases that are subsequently deemed not suitable for Tiffany's needs.
Growth Strategies Adopted by Tiffany & Co:
The company's key growth strategies are to selectively expand its channels of distribution in important markets around the world without compromising the long-term value of the Tiffany & Co. trademark; to increase sales in existing stores by developing new products; to increase its control over product supply and achieve improved profit margins through direct diamond sourcing and internal jewelry manufacturing; to enhance customer awareness through marketing and public relation programs; and to provide customer service that ensures a superior shopping experience.
The company's shares are traded on The New York Stock Exchange with the symbol TIF. Headquartered at 727 Fifth Avenue in New York, Tiffany has more than 8,000 employees around the world.
Smaller Format:
Tiffany & Co. announced plans to open a smaller-format store in Glendale, California, in mid-October 2008. The approximately 2,600 sq. ft. store was to be located in The Americana at Brand, a new 900,000 sq. ft. retail and residential environment developed by Caruso Affiliated.
Covering 15.5 acres that's beautifully landscaped with fountains, plazas and walkways, the expansive property is designed as an ultimate lifestyle and leisure destination, with shops and boutiques, casual cafes, fine dining, and luxury residences.
The store's clean, ultra-modern environment invites relaxed browsing and interaction with contemporary Tiffany & Co. collections, ranging from diamond jewelry in platinum and gold to an array of sterling silver jewelry.
"We are pleased to be the first retail environment in the world to unveil this new concept shop by Tiffany & Co." stated Rick J. Caruso, CEO of Caruso Affiliated. "Rich in history and true luxury, Tiffany & Co. is simply the finest purveyor of diamonds, jewelry and gift items."
Tiffany & Co. (NYSE: TIF) reported results for the three months ("second quarter") and six months ("first half") that ended on July 31, 2008. Strong net sales growth in Asia- Pacific and Europe led to an 11% increase in worldwide net sales in the second quarter.
Combined with a higher operating margin, this resulted in a 21% increase in net earnings from continuing operations and a 31% increase in earnings per diluted share in the quarter. These results enabled the company to slightly increase its earnings expectation for the full year.
Net sales in the second quarter increased 11% to $732.4 million. On a constant-exchange-rate basis which excludes the effect of translating foreign-currency-denominated sales into U.S. dollars (see attached "Non-GAAP Measures" schedule), worldwide net sales rose to seven per cent and comparable store sales declined one per cent. In the first half, net sales rose 11% to $1.40 billion. On a constant exchange-rate basis, sales increased seven per cent and comparable store sales rose one per cent.
Promotion Strategies Used by Tiffany & Co:
The world has been infatuated with the Tiffany style since the early twentieth century. From Hollywood premieres to Centre Court at Wimbledon, celebrities choose Tiffany for its urban sophistication and glamor. Design that is innovative, unique and stunningly beautiful is, by definition, irresistible.
For this very reason, Tiffany's timeless jewelry pieces are seen prominently on the world's most beautiful people. Movie stars, fashion models and women of achievement embrace Tiffany's spectacular beauty and superlative craftsmanship.
Tiffany plans to enter into Indian market because of the ideal growth prospects. The Indian jewelry sector, one of strongest retail segments of India, has an estimated total domestic market size of Rs. 52,000 crore. The organized jewelry retail sector accounts for just about three per cent of the total market size at Rs. 1,450 crore.
While the overall jewelry retail sector has grown by 9.2% in 2006 over the Rs. 47,600 crore market in 2005, the organized segment has shown a nearly 32% growth in 2006 over the Rs. 1,100 crore organized market in 2005. The share of organized jewelry retail has grown from two per cent in 2004 to nearly three per cent over the two-year period. The Indian jewelry sector's current global standing is estimated at over US $90 billion.
According to industry sources, in India 65% of the jewelry is bought during weddings, with gifting contributing around 26%. Global players will look to establishing a foothold in this market in view of the sheer size of the domestic market and because India's expertise in the trade is well recognized across the globe.
Competitors of Tiffany & Co:
An analysis of some of the major organized jewelry retailers indicates that in terms of increase in retail outlets there was equal growth (39%) in 2005 and 2006 whereas the growth in retail space was more in 2005 than in 2006.
1. Tanishq:
Tanishq, from the Tata Group, was started in 1995 and is one of the most diversified business conglomerates. Ten years ago it challenged the established family jeweler and introduced new rules in the precious jewelry segment.
Tanishq marked the beginning of jewelry chains in the country, as against the single store norm of the category traditionally. It has witnessed steady growth over the last two years. From a retail presence in 55 cities with 69 stores across 1,01,290 sq.ft. of retail space in 2004-05, it currently has 92 stores across the cities.
2. D'Damas:
In 2003, the Gitanjali Group and Damas LLC Dubai — the largest jewelry retail chain in the Middle East came together to form D'damas — a contemporary collection of gold and diamond jewelry. D'Damas' gold jewelry is endorsed by the World Gold Council (WGC) and its diamond brands by DTC. Some of the most successful brands of the group are Gili, D'damas, Giantti and Sangini diamond Jewelry.
3. Orra:
It owns 20 standalone stores across 15 cities in India. A part of the Rosy-blue Group, it has metamorphosed into a brilliant entity. Today, the group has cast its glow over 14 countries across the globe and is among the largest sight holders and India's largest diamond and platinum retailer.
4. Intergold:
Intergold, another rentuse from the Rosyblue Group, was started in 1996, and works in close association with DTC (De Beers), World Gold Council and Platinum Guild International. It the one of the largest diamond jewelry retail chain in India with over 20 stores across India.
5. Carbon:
Carbon has two exclusive stores, one each in Bangalore and Delhi. Since its launch in 1998, it is also present in 58 shop-in-shop formats. By 2007 end, Carbon planned to have 20 stores across India.
2. Case Study on Hindustan Oil XtraPower Fleet Card Program:
Introduction to Hindustan Oil XtraPower Fleet Card Program:
About 50% of high speed diesel sales of the transport sector are through highways. This was a thought which brought about the concept of gaining loyalty from this segment of customers capable of giving huge purchases from Indian Oil Corporation Limited (IOCL).
The introduction of fleet cards and network loyalty programs was meant to be an extension of the pre-existing customer loyalty program. Even here B.P.C.L. was the pioneer, launching SmartFleet in February 2001, followed by IOCL's Power-Plus in January 2002. These programs gave fleet owners the option of giving drivers pre-loaded cards which allowed better MIS, transaction tracking and points earning.
With the launch of a co-branded card with MyShoppe, a network loyalty program with a number of retail chain affiliates by IOCL, network loyalty came into the picture. The IOCL XtraPower Fleet Card was launched in March 2004 and at present accounts for 10% of the company's diesel sales, 13% of the sales on the highways and 22% of the fleet market share.
XtraPower Fleet card program is the largest fleet card program in India with around 12.25 lakh cards issued till March 07. It has a total of 3.2 lakh customers under its umbrella. Regular users are less than a lakh. The average customer usage is less than two per cent. A large amount of resources have been deployed for this program since it is one of the biggest revenue generators for India's highest ranked fortune 500 company.
No other oil company offers such a vast network as Indian Oil. This makes the Indian Oil Program a clear winner amongst fleet card program in the country bringing it a revenue of more than 25 crores a day.
Rewards Obtained by Hindustan Oil XtraPower Fleet Card Program:
On every purchase of fuel/lubes through Xtrapower fleet card (except for cards with interest free credit limit facility), the owner earns Xtra points. With the points accumulated by a card, the member can redeem a choice of reward items from the Xtrapower rewards catalogue including fuel/lubes. For every Rs.100 one earns five Xtra points which gives 40 paise as a reward value. It means for every purchase of Rs.10, 000 the member earns Rs.400.
Inspite of all these benefits the program leaves much to be desired. In the entire program only 21.5 % cards are active out of the total of 12.25 lakh cards issued till March 07. Lack of knowledge to the customer about the program benefits is a constraint which has to be overcome.
Also the fact that in terms of benefits there is not much to choose between the fleet card programs of various oil companies in India, this would require a major customer communication program.
Indian Oil Xtrarewards is India's first on-line rewards program that seeks to inculcate the habit of redeeming points. The loyalty program rewards customers who pay by cash, credit and debit cards. Each transaction is confirmed on-line through a charge slip and customers can earn points on fuel/lube purchases by participating at Indian Oil retail outlets.
Additional points can also be earned outside the Indian Oil network, covering prominent FMCG, food, automobile, travel, entertainment, apparel and hospitality sectors. Xtrarewards is currently active in Mumbai, Ahmedabad, Bangalore, Mysore, Coimbatore and Chennai. It will be shortly available in other markets like Delhi.
Apart from redeeming the accumulated points instantly on fuel/SERVO lubes at participating retail outlets, the card holder can also redeem the points to get some exciting gift items from a catalogue.
The redemption on gifts can be registered either from the participating retail outlets or from the comfortable confines of one's home through the 24 x 7IVRS Help Line number. The program continuously provides the cardholder with privileges, benefits and offers from alliance partners like Domino's Pizza, Subhiksha, Rediff Shopping, Kumaran Silks, Dhabba Express, Chennai Corporate Club and Archana Sweets.
As loyalty programs become ubiquitous, some interesting dynamics will evolve in the loyalty marketplace. Companies will continue to look for ways to differentiate their loyalty programs, while balancing program revenue and costs to achieve favorable economics. How will the loyalty program evolve? It has been slow but future economic, demographic and legal landscapes could accelerate company attention to customer retention.
3. Case Study on Vimal:
Vimal suiting is one of the brand which comes under Reliance. Vimal suiting, one of the oldest and most respected iconic textile brand of India is languishing some-where in the attic of the mega corporation Reliance. The brand which started off as a saree brand developed itself into a mega textile brand for women, men and even for furniture (Vimal harmony is one of the largest furnishing brands).
Vimal suiting was launched in 1980 after the successful Vimal range of sarees. At that point of time, Reliance was predominantly a textile company. This brand was carefully positioned as a premium men's suiting brand. The brand which was handled by Mudra was promoted heavily by Reliance. At that time the major competitors being Bombay Dyeing and Raymond.
The Vimal Suiting Brand was Developed in Six Stages:
1980 saw the making of Vimal's suitings brand. It was a challenge for the agency since the consumer was already exposed to quite a few venerable and longstanding brands. Loyalties ran high with little or no tolerance for newcomers. It was against this backdrop that Vimal launched their suitings brand. They had one major advantage over the existing players—product superiority.
And this is exactly what the advertising cashed in on for their launch. It was unusual for a textile brand to be sold as a consumer durable. In fact the first campaigns of Vimal actually carried insets of the machinery! And quite naturally it drew considerable criticism from the advertising pundits of the time. But the brand's courage of conviction eventually won the day. Slowly and surely the brand moved forward and upward in a series of well-orchestrated moves.
Phase 1:
Established the superiority of Vimal suitings backed by, technology endorsements.
Phase 2:
Achievers endorsed the caliber of the brand.
And yes, it was a most unusual take on the conventional celebrity endorsement route.
Phase 3:
The brand achieved enough momentum to dictate fashion, and to be taken seriously.
Phase 4:
Saw Vimal firmly established as 'The Style Guru'.
Phase 5:
Yet another first for textile advertising- Cricketers as celebrities.
Phase 6:
The brand continues with its passion for fashion.
The brand was targeted at the young ambitious people who are challengers to the CEOs. The brand personality was stylish, and inspirational. Vimal was promoted using the famous tagline "Only Vimal" created by Frank Simoes. The tagline is said to be personally approved by Dhirubai Ambani himself. It was a premium brand and the ads were catchy. Reliance also opened exclusive Vimal showrooms as part of brand promotion.
Later in the 1990's, the Reliance business model changed. The company changed from textiles to petrochemicals and Vimal was not fitting into the reliance business plans. It was the only retail brand of Reliance (now we have RIM) and the company never focused on Vimal.
As far as a marketer is concerned, Vimal was a great brand with huge potential. Late 90's also saw the shift in the consumer's preference towards ready-mades. Although Reliance had a readymade brand "Reance" it was a half-hearted move which resulted in a flop.
Vimal was known for its quality and style and people still people remember its simple baseline "Only Vimal". Lack of marketing support had virtually killed the brand. Vimal is now owned by Raymond's and Reid & Taylor.
Rebirth of Vimal:
After a decade long sleep, Vimal is making a comeback in a new avatar with a:
1. New Logo: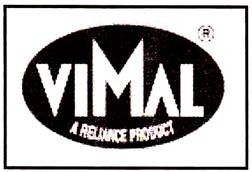 2. New Designing:
The Company hired a famous Italian designer Maurizio Bonas to train the Indian tailors on the latest in global styles and to launch a special range of premium apparel called Vimal Black.
3. New Product Offerings Along with different Pricing Strategy:
Created three sub-brands that straddle all price points:
1. Vimal Red offers basic formal wear for the popular segment (formal shirts for Rs. 699-899).
2. Vimal White, which is trendier apparel, is the mid-price range (Rs. 799-1,099).
3. Vimal Black is the company's premium offering (Rs. 999-1,800).
Thus, targeting new and various segments of customers with different brands, the new look Vimal is planning to roll out 16 stores in the next financial year. However, it will take more than a suit maker for that reason, even an Italian suit maker, to help Vimal regain its once iconic "Only Vimal" status.
New Distribution Channel:
Ready to wear range will be sold in the company's exclusive stores and the franchisees. It is also counting on Reliance Retail's own stores to help promote the men's wear brand, especially Vimal Red.
Already, fabric sales have been initiated at Reliance Trendz and Reliance Mart stores. Reliance's Vimal did its homework very well in every aspect i.e. advertising, promotion and distribution channel but don't you think it will be very difficult for Vimal to establish its brand as it was in the late 80s and early 90s?
New Advertising Campaign:
A 60-second commercial by Grey Worldwide shows the root values of company. The ad shows a father readying his son to take over his business empire. He picks his own brand Vimal, of course, and it ends with the original theme tune and tagline.
It was first time at any textile company showed its machinery etc. in ads to boast that Vimal fabrics were made in the most modern plant in India. The company spent Rs. 40 crore on promotion through television, radio spots and print ads, apart from extensive point-of-sale promotions for high visibility.
Major Competitors of Vimal:
Vimal is facing good competition from established players like Park Avenue from Raymond, Madura Garments (Louis Phillipe, Allen Solly, and Van Heusen), Arvind Brands (Arrow), Zodiac and Reid & Taylor and premium international brands like Brioni, Alfred Dunhill and Ermenegildo Zegna have also entered the Indian market.
Madura Garments:
Madura Garments, a division of Aditya Birla Nuvo, is India's leading apparel and retail company. It enjoys market leadership in the branded garments business through its power and popular lifestyle brands — Louis Philippe, Van Heusen, Allen Solly and Peter England.
Recently, the company has entered into a distribution agreement with the international brands like Esprit, Marks & Spencer's Tommy Hilfiger, Polo and several other discerning international buyers. Madura Garments products are sold through a network of more than 130 exclusive franchisees and over 2,000 premier multi-brand outlets as well as leading departmental stores within India and overseas.
It has exclusive showroom space, which includes several large format brand outlets of world-class standard, providing top quality retail experience to the consumers. It also has a highly visible presence in large department and multi-brand stores. The thrust is on brand building through development of innovative new merchandise, exciting communication campaigns and enhancing the product portfolio.
The overall marketing strategy has been to move from a 'Wardrobe' brand to a 'Lifestyle' brand. Fashion brands have 95 showrooms which exclusively sell Louis Phillippe/Van Heusen/Allen Solly and SF jeans. Popular brands have 160 showrooms and 600 shops-in- shops and 800 multi-brand outlets spread across 250 towns in India.
Planet Fashion:
Madura Garments has successfully launched Planet Fashion showrooms in India and SAARC and Middle East countries with further expansion plans. With over 3,000 square feet of space, the planet fashion showrooms promise an ambience of sheer luxury. Today 45 Planet Fashion Showrooms have been opened up in 20 cities nationwide.
This format was designed by renowned French architect Jan Claude Pannighetti. Plant Fashion hosts some of the best know menswear brands like Louis Philippe, Van Heusen, Allen Solly, Peter England & SF Jeans and also provides a wide range of fashion accessories to complete a man's wardrobe.
Each store stocks about 6,000 garments with the store theme of world class shopping experience delivered through 500 square feet of shopping area in each store where individual brands are merchandised.
Trouser Town:
It is a whole new concept in retailing as it is the only store in India dedicated solely to readymade trousers. Presently TT has nine showrooms across seven cities nationwide.
1. Louis Philippe:
Louis Philippe's range of superbly crafted garments make an exclusive fashion statement that is accepted as a status symbol, recognized by its distinctive icon — The Upper Crest.
2. Van Heusen:
Van Heusen has redefined corporate attire through continuous product innovation and exclusive collections.
3. Allen Solly:
Allen Solly popularized the Friday dressing concept in India. It has won the IFA Images 2001 Best Brand Award in the readymade menswear apparel category. With the launch of its women's wear in December 2001, Allen Solly has made a successful foray into the growing women's work and casual wear market.
4. Peter England:
This mid-segment shirt brand has effectively penetrated the mini metros. It has won several awards, including Shirt of the Year 2000 and India's Most Admired Menswear Brands in 2001.
With a turnover of Rs. 395 crore, Madura Garments is one of the leading and fastest growing branded apparel companies in the country. The company enjoys a 30% market share in the premium segment for all brands. The company is a preferred global supplier for international brands such as Marks & Spencer's, Tommy Hilfiger, Polo Ralph Lauren and several other international buyers.
Madura Garments was expected to report revenue of a round Rs. 600-650 crore in FY'07, and is currently a clear leader in the domestic apparel space with annualized growth of 20% in recent years. Its total turnover is projected to touch Rs. 650 crore, in line with a planned 20% growth for itself while the market grows at 15%.
5. Raymond's:
The Raymond Group was incorporated in 1925 and within a span of a few years transformed from being an Indian textile major to being a global conglomerate. Today, the Raymond group is vertically and horizontally integrated to provide the customers total textile solutions. Few companies across the globe have such a diverse product range of nearly 12,000 varieties of worsted suiting to cater to customers across age groups, occasions and styles.
Raymond's turnover is US$ 500 million and the group is today one of the largest players in fabrics, designer wear, denim, cosmetics & toiletries, engineering files & tools, prophylactics and air charter services in national and international markets.
For over 80 years, Raymond has been one of the world's premier manufacturers of worsted suiting fabric in fine grade wool, in the same league as the finest in Europe has to offer. Today, the Raymond product range includes pure wools, blended wool with exotic fibres like camel hair, cashmere and angora and innovative blends of wool with polyester, linen and silk offering suiting and trouser fabric for all occasions and needs.