Mass marketing time has gone. Gone are the days when the companies used to deliver the same product for the total market. Today the companies are segmenting their customers into similar clusters in order to market specialised products and services to each group. As for most of the companies 20% of the market brings in 80% of the revenues therefore, identifying 20% correctly is crucial.
The traditional boundary walls between segment's demographics, usage, attitudes, habits and practices are disintegrating. The constituents of segments that today's unpredictable customers can be divided into share other kinds of traits, including psychological quirks, behaviourial peculiarities and decision making processes.
So while segmentation still offers ways to add competitive customer value, the methods applied must be different.
Psychological Segmentation:
Understanding customer's attitudes towards our product group may not be enough to carve out a segment, whose requirements are a perfect fit for our product. Only by making deep study can identify those common factors that will provide a meaningful basis for segmentation and enable to add value. Customers must be differentiated in such a manner that enable to create different brands.
Aptech went about identifying and understanding its target consumer for its multimedia computer course, branded ARENA. Aptech was faced with the probable segment of youngsters between 5 & 25 all around the country. However, Aptech was aware that it could not serve up an undifferentiated product to this entire group as after all on 18 year old young adult would hardly agree to share a desk with a year whizkid.
Since a wider net ends up confusing the customer, it was critical for the Aptech to explore the possibilities of segmentation. Deciding on the grounds of logistics to address to 18-25 age group, Aptech then began the process of slicing out the target segment from its demographic chunk.
Using qualitative research to understand their career aspiration, the company concluded that technically sound info-tech careerists with strong analytical skills, were looking for a future in computers, not in multimedia.
This breed of youngsters would therefore, pick a conventional computer course ahead of Arena. That led the company to narrow down its focus on those who were creatively inclined, looking for careers in relatively non-professional traditional professions like advertising, design, media, fashion, theatre, film making or textile or interior designing.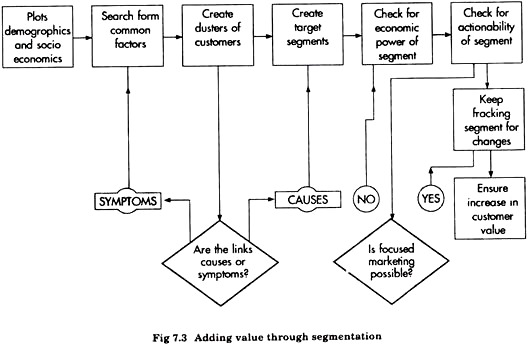 The next stage was to find the key influences on people with this profile and that led to findings which ultimately defined a target segment in psychological term; the potential customer did not want to go into his father's profession, he was largely swayed by his peer group and he was heavily inspired by an adult—a friend or a relative who had followed an unconventional career.
He wanted to be trendy and a self-starter. Aptech defined its market segment keeping in balance between the seriousness about a career and fun and marketing mix was accordingly designed.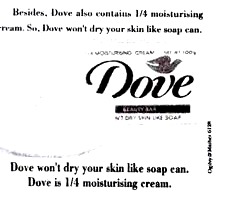 Demographic Variables:
Demographic variables can widely be used to segment customers. As Lakme-lever used demographic segmentation to great effect when launching its ELLE 18 brand of cosmetics. The emergence of price warriors like Tips and Toes, followed by the entry of low priced brands like Amber and Petals from the unorganized sector was cutting the ground from under lakme-lever ultra range of colour cosmetics.
Its new brand therefore, had to win buyers away from these challengers. However, differentiating itself sufficiently to offer additional value to every customer of the low priced brand, appeared impossible.
So lakme-lever opted to segment the mass market instead and aimed at one clearly identified segment. Its search for a unifying driver identified the desire to feel young, carefree and innocent.
And a handy shorthand for these feelings was available in the form of a demographically defined segment: Urban women between 15 and 24—young to enough to be un-spoilt, but close enough on the threshold of adult life to use cosmetics regularly. Building an image of clean fun. Lakme lever targeted its new brand, Named ELLE 18, directly at this segment.
Though ELLE 18 was positioned for the young woman, the brand's strong aspirational values, coupled with the competitive pricing acted as a magnet for even the larger market of older middle class women. In other words, the demographic segmentation helped other potential customers crave for the value that the brand offered.
In fact, one of the shortest routes to adding value is by uniting like minded and not externally similar people in our segments.
The following questions are to be asked for the effective segmentation:
1. Have you avoided Segmenting your customers using untested assumptions?
2. Are you tracking you segment constantly to monitor changes?
3. Have you conducted detailed studies of consumer behaviour and motivation?
4. Can your target segment be reached through one medium?
5. Have you factored in demographic findings along with the psychographic?
Following principles are to be observed to make the segmentation effective:
(a) Use motivators not buying power, to spot segments as Maxwell lovable identified the expectations women have from their lingerie.
(b) Cut through superficial similarities to identify real links as Aptech studied the psychological motivations of customers to identify a segment.
(c) Segment by age groups to represent distinct life style as lakme-lever used age based segmentation for Elle 18 to stroke aspirations of youth.
(d) Try to carve out new segments across existing once as P&G used the affinity for balms as a basis for creating a new segment of customers.