This article will guide you about how to open an account with a bank.
Herein before opening a bank account was very simple. A person desiring to open an account was required to simply fill in an account opening form get himself introduced by a person known to the bank by virtue of his being an old account holder or otherwise to the satisfaction of the Branch Manager.
The method was made simple so that everyone desiring to open an account with any bank can do so without facing any difficulty. But with the passing of time some people started to use this channel for unwanted activities. A number of accounts were used to be opened in fictitious names and the money collected in such accounts was utilized for anti national and ante social activities.
Sometime these accounts were opened for using banking system in false names encouraging creating black money in the market. It was also observed that in certain cases bank accounts were utilized for terrorist's activities also in addition to manipulating black money.
In order to restrict fraudulent activities through banking channels the Reserve Bank of India issued guide lines for identification of depositors to help control financial frauds, identifying money laundering as well as to keep an eye on suspicious activities; and for security/monitoring of huge value cash transactions. Taking into account recent developments, both domestic and international it has been decided to consolidate the extant instructions on KYC norms and cash transactions.
Before opening of an account a Bank has to carry out due diligence of customers. This is a step taken by the Reserve Bank of India to combat money laundering and financing of TERRORISM in the country. The main purpose of KYC norms was to restrict money laundering and terrorist financing when it was introduced in late 1990s in United States.
The U.S. Government turned very strict after 9/11 and all regulations were finalized before 2002 for KNOW YOUR CUSTOMER (KYC). Taking into consideration the steps of US Govt., the Reserve Bank of India too directed all banks to implement KYC guidelines for all new accounts in second half of 2002.
What is KYC (Know Your Customer):
KYC norms actually mean to prevent identity theft, identity fraud, money laundering, and terrorist financing. The Reserve Bank of India directed all Banks and Financial institutions to put in a place a Policy framework to know their customers before opening any account. After adopting a policy for KYC norms it was made mandatory to place on record certain information about the customer desiring to open an account in any BANK.
These mandatory requirements are:
A person wishing to open an account with a bank should possess PAN card i.e., a permanent account number of Income Tax Department. In the absence of a PAN Card a prospective customer has to declare himself as non-assessed for the purpose of income tax in which case he has to file a declaration in the form of Form No. 60 or 61 as may be applicable to him.
A person desiring to open an account with a Bank is required to produce the documentary proof of his identity like photo Identity card, Voter card, a passport or any other document issued by local Govt./Bodies. A person desiring to open an account with a Bank is required to provide documentary proof of his residential address like Ration card, Electricity bill, and Voter card, Land Line Telephone Bill or Driving License etc.
In support of above requirements a person desiring to open an account with a Bank can produce inter-alia following documents; Above are some of documents that may help serve the purpose of identifying a person and can be accepted as a proof of identification.
But for the purpose of Residential proof some of the documents, which can be accepted, are mentioned below:
A Ration Card issued by any state Government. (This document is actually meant for drawing ration at the control rate and is widely used by poor persons. Such persons frequently change their residential address and move from one place to another wherever they get any sort of employment.
In such circumstances this documents fails to serve the purpose of residential proof. In view of this fact certain State Governments have started printing on the face of ration cards that this document is issued for the only purpose of drawing Ration and therefore it cannot be used for any other purpose. In view of this inscription on the face of a ration card many banks do not accept this document as a proof of residence).
A person living in a house must be using electricity. Therefore a bill of electricity in the name of a person desiring to open an account with bank can be considered as a proof of residence.
Likewise a telephone Bill of landline can also be accepted as a proof of residence.
A House tax receipt can also be accepted as a proof of residence.
In the absence of above documents a letter from the employer certifying the address can also be accepted as a proof.
Any Certificate by any recognized public authority certifying the address can also be treated as a residential proof.
Failing all a visit by a bank official to the residence of the prospective customer will also serve the purpose.
A family consists of so many members but electrical bill, telephone bill or House Tax receipt is generally in the name of one person usually in the name of the head of the family. In such circumstances other family members are not able to produce proof of residence, as all such documents do not contain their name for identification.
It is under consideration of the Reserve Bank Of India that a certificate from the family member in whose name such documents are available should issue a certificate clarifying his relation with the family members to enable him to open an a bank account on the basis of such certificate.
Failing all a visit by a bank official to the residence of the prospective customer will also serve the purpose. Though the standard documents that are accepted as proof of identity and residence remain the same across various banks, some deviations are permitted, which differ from bank to bank.
The type of documents required to open an account in any bank are listed below. All these documents are required to be verified by bank officials.
Most of the customers are not in position to submit original documents and tend to submit only photocopies of required documents. In such cases the customers are required to produce original documents before a Bank official who may after seeing the original documents will be able to verify your documents.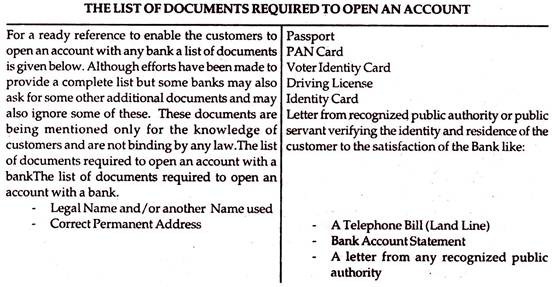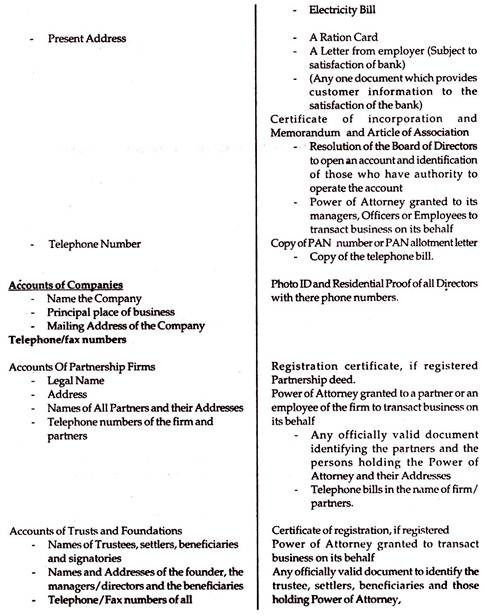 Requirement of "Introducing an Account":
After having provided all the documents as stated above the most important factor and also MANDATORY is to provide an Introduction of the person desiring to open an account with a bank. This introduction part is very important as the introduction is not merely a formality but is also recognized by the Law.
In case of any miss happening or a fraud in any account, the foremost thing taken into account is whether or not the account was duly introduced as per KYS norms. If not the bank official responsible to open the accounts without proper introduction also becomes a subject matter of suspicion and accordingly staff side action (An action to fix the responsibility and if found guilty to be punished accordingly) is taken against him which may even result in terminating his services for a vital fraud taking place because of wrong introduction. It is therefore of utmost importance for the banks to obtain an introduction of a person for whom the bank is going to open an account.
(It has been observed that certain Private Sector banks do not bother for obtaining proper introduction and most of the accounts are opened through the agents appointed by them. This practice is in violation of RBI Norms Beware of such practices, which may put you in great problem. Please observe the prescribed norms for opening an account with any bank to protect yourself against fraudulent banking activities and do not introduce any unknown person).
We should understand to know as to what is meant for introduction. The word introduction has not been defined anywhere but we can go by the meaning of introduction according to which the act of introduction is the act of introducing or bringing into notice, the act of making persons formally acquainted with one another.
Here in terms of banking an introducer is bringing into the notice of bank a new customer by verifying the personal information of the new coming customer.
As such the introducer is a person who knows well about the person wishing to open an account with the bank and also provides a certificate to the bank that he knows the person for such and such period and also certifies that the person is living at such and such place and is also engaged in such and such activities/business.
Anyone can give such type of certificate or introduction. But banks do not believe on the introductions given by any unknown person. A bank also verifies the standing of the introducer. Either the introducer should be an account holder of the same bank where a new customer wants to open an account and the account of the introducer should have run for a required time of period satisfactorily.
In other cases the introducer should be to the satisfaction of the bank officials either by virtue of his dealings with the bank or by virtue of his locus standi. Now come the question as to who can introduce an account.
Who Can Introduce A New Bank Account?
Most of the banks require an introduction of a new customer wishing to open an account with a bank from an existing customer of the same bank whose conduct of account is found satisfactory and the account of the introducer must have been maintained satisfactorily for at least for past six months or so on.
In other words opening a new account in a bank is no longer a Cakewalk. All the documents are required to be checked against bank's requirements to ascertain if these match or not before allowing an account opening process with any bank. This process of opening an account in any bank continued till 2004.
In the year of 2004 the Reserve Bank of India came up with more specific guidelines regarding KYC norms and these are divided in four parts;
Customer Acceptance Policy of Banks:
All banks shall develop criteria for accepting any person as their customer to restrict any anonymous accounts and ensure documents mentioned in KYC norms.
Customer Identification Procedure:
Customer to be identified not only while opening the account, but also at the time when the bank has any doubt about his transactions.
Monitoring of Transactions:
KYC can be effective by regular monitoring of transactions, identifying any abnormal or unusual transaction and keeping a watch on higher risk group of the account is essential in monitoring transactions. Banks are required to submit statement of those accounts where cash dealing is more the Rs. 10 lacs. Also bank has to submit a separate statement where transaction in any particular account appears to be suspicious.
Risk Management:
This is about managing internal work to reduce the risk of any unwanted activity, managing responsibilities, duties and various audits plus regular employee training for KYC norms.
Adverse Effects of KYC Norms:
Whatever has been prescribed under the so-called KYC norms are implemented in words and spirit whenever a case of opening an account of a common man comes before a bank? Even after having produced all the documents required for opening an account a common man still finds, it difficult to comply with KYC norms.
A laborer living in a hut on rent or a person permanent resident of a different city living on rent in any other city having no proof of identity, address proof as defined in KYC norms and having no introducer is not able to open an account in any bank.
The sordid story is that a young son of such a person having no documentary proof of is identity or his residence dies in a road accident and he is awarded a compensation paid in the form of a cheque, but because of KYC norms this poor man is not able to open any account in any bank.
On the contrary a big fish having huge amounts on his disposal is invited by the bank managers to open an account and no KYC norms come into picture for opening such accounts. (THESE ARE PERSONAL VIEWS OF THE WRITER AND ARE NOT SUBJECT TO ANY LAW, RULES, AND PRACTICES OF DIFFERENT BANKS.)
Some banks taking into consideration the problem of such type of people have introduced some special type of accounts to help these people where KYC norms have been relaxed. For example Punjab national bank has introduced a scheme known as Mitra accounts to help these type of people to open the account in relaxing KYC NORMS. BUT SUCH TYPE OF ACCOUNTS ARE OPERATED UNDER CERTAIN CONDITIONS.
I think you might have thought seriously as to how difficult it is to open an account with any bank without identifying yourself and without providing necessary documents, ascertaining your place of living besides knowing a person who can introduce you.
Since you are a bonafide citizen of the city having all the required documents and you are able to open an account with a bank. You would like to know how to operate your account, how many types of accounts are available in your bank and also how to conduct your account.