Here is a essay on 'Investor Education' for class 11 and 12. Find paragraphs, long and short essay on 'Investor Education' especially written for school and college students.
Essay on Investor Education
---
Essay # 1. Introduction to Investor Education:
Investors are the backbone of the securities market. They constitute an important segment of the stock market. They not only determine the level of activity in the securities market but also the level of activity in the economy. The developments in the securities market affect the sentiments of these investors too.
In turn the sentiments these investors too affect the securities market. Hence protecting and promoting their interest is of utmost importance for the growth of the capital market. The best way of protecting and promoting the interests of individual investors is by teaching them about investing in securities market and providing them with all necessary information for an informed decision making.
---
Essay # 2. Need for Investor Education:
Different investment avenues are available to investors. These investments offer good investment opportunities to the investors. All investments carry certain risks. The investors should compare the risks and expected yields after adjustment of tax on various instruments while taking investment decisions. The investors may seek information from various sources and advice from experts and consultants including agents and distributors while making investment decisions.
Many investors do not possess adequate expertise or knowledge to take informed investment decisions. Some of them may not be aware of the complete risk-return profile of the different investment options. Some investors may not be fully aware of the precautions they should take while dealing with market intermediaries and dealing in different securities.
They may not be familiar with the market mechanism and the practices as well as their rights and obligations. With an objective to make the investors aware of various investment opportunities available, the risk and return attached to them and the procedures to be followed while investing in them, they need to be informed.
The basic aim of investor education programs is to provide information and help the investors in taking investment decisions. In this backdrop, SEBI, BSE, NSE and the Department of Company Affairs, Government of India all conduct comprehensive education campaigns aimed at creating awareness among investors about securities market.
---
Essay # 3. SEBI's Investor Education Initiatives:
The SEBI's investor education program has been christened "Securities Market Awareness Campaign" (SMAC). The motto of the campaign is—'An Educated Investor is a Protected Investor.' The campaign was launched at the national level by the then Prime Minister, Shri Atal Bihari Vajpayee, on January 17, 2003. The national launch was closely followed by state level launches.
The structural foundation of the campaign is based on workshops that are being conducted across all over the country with continued and active participation of market participants, market intermediaries, Investors Associations etc., to spread SEBI's message of "invest with knowledge".
The workshops aim at reaching out to the common investors and are held primarily in small and medium towns and cities all over the country. The investors are familiarised with the functioning of the securities market, fundamentals of investment, risk management and investors' rights and responsibilities. Till date, more than 2188 workshops have been conducted in around 500 cities and towns across the country.
SEBI has prepared a standardized reading material and presentation material for the workshops. In addition, reference guides on topics concerning investors have been prepared and distributed to investors during these investor education campaigns. In addition, these messages are spread across the investor base by way of advertisements in newspapers, especially in the regional newspapers.
Till date, over 700 advertisements relating to various aspects of Securities Market have appeared in 48 different newspapers/magazines, covering approximately 111 cities and 9 regional languages, apart from English and Hindi. With regard to educating investors through the medium of radio, SEBI Officials regularly participate in programs aired by All India Radio.
With a view to use the electronic media to reach out to a larger number of investors, a short cautionary message, in the form of a 40 seconds film, has been prepared and the same is being aired on television.
With a view to make information relevant to the investor available at one place, a dedicated investor website (https://investor(dot)sebi(dot)gov(dot)in) has been set up and operated. A simple and effective internet based response to investor complaints has been set up. On filing of a complaint electronically, an acknowledgment mail would be sent to investor's specified email address along with a complaint registration number instantaneously.
Further, Investor Education and Protection Fund (IEPF) has been established under Section 205C of the Companies Act, 1956 by way Companies (Amendment) Act, 1999 for promotion of investors' awareness and protection of the interests of investors. The Central Government notified the establishment of the Investor Education and Protection Fund (IEPF) with effect from October 1, 2001.
The IEPF is credited with amounts in unpaid dividend accounts of companies, application moneys received by companies for allotment of any securities and due for refund, matured deposits and debentures with companies, and interest accrued thereon, if they have remained unclaimed and unpaid for a period of seven years from the due date of payment. The IEPF is utilized for promotion of awareness amongst investors and protection of their interests.
---
Essay # 4. BSE's Investor Awareness & Education Programs:
Bombay Stock Exchange Limited established in 1875 as the "Native Share and Stock Brokers" Association is one of the oldest stock exchanges in Asia. The Exchange not only provides an efficient market but also upholds the interests of the Investors' and ensures redressal of their grievances, whether against the companies or its Member-brokers.
It strives to educate and enlighten the Investors' by making available to them the necessary information. The Exchange popularly known as the Bombay Stock Exchange (BSE) provides all the market related information by issuing press release and these are also available on the website, i.e., https://www(dot)bseindia(dot)com.
Investor awareness programs are being regularly conducted by BSE to educate the investors and to create awareness among them regarding the working of the capital market and in particular the working of the stock markets. The programs are being conducted regularly in Gujarat, Kerala, Tamil Nadu, Uttar Pradesh, Rajasthan, Punjab, Haryana and within Maharashtra.
The investor awareness program covers extensive topics like Instruments of investment, Portfolio Approach, Mutual Funds, Tax Provisions, Trading, Clearing and Settlement, Investors' Protection Fund, Trade Guarantee Fund, Dematerialisation of Shares, information on Debt market, Investors' Grievance Redressal system available with SEBI, BSE and Department of Company Affairs, information on Sensex and other indices, Workshops and information on Derivatives, Futures and Options, etc.
The Bombay Stock Exchange has also earmarked an amount of Rs.1 crore for assistance to Investor Associations for conducting Investor Awareness and education seminars etc. During the year 2000-2001 an amount of Rs. 20 lakhs has been disbursed to the SEBI recognized Investors Association.
BSE Training Institute:
The institute organizes Investor Education Programs periodically on various subjects like comprehensive programs on Capital Markets, Fundamental Analysis, Technical Analysis, Derivatives, Index Futures and Options, Debt Market etc. Further, for the derivatives market, BSE also conducts the compulsory BCDE certification for Members and their dealers to impart basic minimum knowledge of the derivatives market.
BSE's Web Site:
This site serves as the focal point for information dissemination and updates investors with latest information on stock markets on a daily basis through real time updation of statistical data market activity, corporate information and results. Educative articles on various products and processes are also available on the site. BSE regularly comes out with publications for investor education on various products and processes like quick reference guide for investors, etc.
BSE Publications:
BSE regularly comes out with publications for Investor education on various products and processes like Quick reference guide for Investors.
Investors' Opinion:
In this back drop investors were enquired about their participation in investor education programs. They were enquired whether they have watched on TV or attended investor education programs sponsored by SEBI or Department of Company Affairs or stock exchanges? Their responses are given in Table 13.1.

The Table 13.1 reveals that less than half of the investors (45.1%) only have attended the investor education programs sponsored or conducted by DCA, SEBI, BSE etc. A large number of investors have not attended these programs so far. The investors who have not attended these programs so far (54.9%) were enquired about reasons for not attending these programs – Their responses are given below in Table 13.2.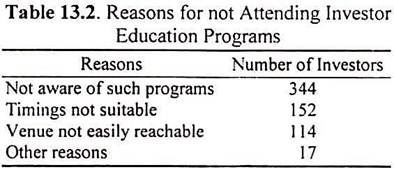 Nearly 62 percent of investors who have not attended the program cited they were not aware of such programs. Timings not suitable and venue not easily reachable are also the reasons that were cited by the investors. This shows that despite SEBI, BSE, NSE and DCA taking several measures to inform the investors regarding the investor education programs, the message has not reached majority of investors.
In this backdrop, the investors were enquired to suggest ways to reach them. 281 of those investors who were not aware of these education programs have suggested some ways to reach them. Some of them are listed belo – Nearly 40 percent of the investors have suggested advertisements in newspapers and magazines.
To be specific they wish 'advertisements' be given in general English papers like 'The Hindu' and local vernacular papers. Twenty percent of the investors suggested these programs be advertised in business news channels like NDTV Profit, Times Now, etc. during the trading hours.
Twelve percent of the investors have suggested this information can be passed on to the investors through brokers and depository participants. Six percent of the investors have suggested that the schedule of these programs can be sent to them through e-mail, details of which are available with depository participants.
The job of sending these e-mails may be given to respective regional depository participants too. Three percent of the investors have suggested putting the information on popular websites such as Yahoo(dot)com etc. Rest have suggested like sending the materials to them through post by taking information from depository participants, investor forums etc.
The investors who have attended these investor education programs rated them on a four point scale about their usefulness in educating the investors, informing the investors about the recent stock market developments, raising necessary cautions, helping them to take informed decisions, etc. The investors' viewpoint on the usefulness of investor education programs is given in Table 13.3 below.

The Table 13.3 reveals that nearly 60 percent of the investors who have attended the investor education programs have said these programs are somewhat useful and more than one fourth have expressed that they are very much useful in educating the investors. Only 14 percent have said that those programs are not of much use.
In the personal discussions with investors, they complained that mostly the content of these programs are of repetitive nature. The same information is repeated with few updates. For the first time attendants it is informative but for repeated attendants there is no enough new information.
To know what more information they expect from these meetings, the investors who have attended these programs were requested to suggest some topics, which should be covered in these education programs. Fifty-eight percent of the investors who have attended these education programs have given their suggestions. The long list of suggestions was arranged and a frequency table was prepared.
The topics suggested are given below:
i. Derivatives
ii. Technical Analysis
iii. Fundamental analysis
iv. Investor Protection
v. Investment strategies in Bull/Bear markets
vi. How to purchase or sell shares through internet?
vii. Basic knowledge about capital markets
viii. SEBI's responsiveness to investors' problems
ix. How to proceed against defunct, vanished companies?
x. Revealing common false practices
xi. Criteria for identifying good stocks.
xii. Assessing company's financial reports.
xiii. Market Trends related
xiv. How to play safe?
xv. Responsibility of regulators.
xvi. Case studies of successful investors-their strategy and targets.
xvii. Awareness programs on market happenings, do's and don'ts
It seems the investors' knowledge quest seems no boundary. SEBI and others can take into consideration these areas while designing an investor education program so that the interests of various classes of investors are taken care of.
Conclusion:
An Educated Investor is a Protected Investor – The regulator of the capital market SEBI and the premier stock exchange of the country The Bombay Stock Exchange understanding this are taking various steps to educate the individual investors in the country. Majority of those who have attended the investor education programs find them somewhat useful and little more than one fourth find them very much useful in educating the investors.
The investors who have attended these education programs want some new topics likes Derivatives, Technical Analysis, Fundamental Analysis, Investor Protection, etc. to be covered in addition to their information. However it is still to reach a very large number of them and it does not quench the knowledge thirst of those to whom it has reached. It can be said that what has been done is a small beginning in educating investors and it has a very long way to go to achieve its objective of creating an educated and informed investor community.
---