Here is a compilation of essays on 'Politics' for class 9, 10, 11 and 12. Find paragraphs, long and short essays on 'Politics' especially written for school and college students.
Essay on Politics
---
Essay Contents:
Essay on the Meaning of Politics
Essay on Organizational Politics
Essay on the Political Implications of Power
Essay on Behavioural Model—Reading Political Situations
Essay on the Dysfunctional Uses of Power and Politics
Essay on Bad Politics and Performance Risks
Essay on Best Practices for Curing Bad Politics
---
Essay # 1. Meaning of Politics:
Politics is about access to power. How organization structure promotes opportunities available or enhance access to power is therefore of considerable importance. Pffeffer defines "politics as those activities taken within organizations to acquire, develop and use power and other resources to obtain one's preferred outcome in a situation in which there is uncertainty or dissensus about choices".
He further states that power is a force, a store of potential influence through which events can be affected. Politics involves those activities or behaviours through which power is developed and used in organizational settings. Power is a property of system at rest; politics is the study of power in action.
An individual, sub unit or department may have power within organizational context at some period of time; politics involves the exercise of power to get something accomplished as well as those activities which are undertaken to expand the power already possessed or the scope over which it can be exercised.
Departments in organizations are dependant on each-other in varying degree. It is the degree of dependency between departments, the power relationship is expressed. Such relationship can be collaborative or conflictual depending upon the variables.
Chief among the variables is mutual task dependence. This is an incentive for collaboration, but also an occasion for conflict and the means for bargaining over interdepartmental issues. They have further stated that role problems cause inter-departmental friction. Blocked promotions, role ambiguity and faulty performance appraisal leads to scapegoating.
Interpersonal skills plays a vital role in management of political influence. Sub-units control contingencies for one another's activities and draw power from the dependencies thereby created. A sub unit power is related to its coping with uncertainty to substitutability and centrality the degree to which sub unit is linked into the organizations systems.
---
Essay # 2. Organizational Politics:
Political behaviour is designed and initiated to overcome opposition or resistance. If there is no opposition, there is no need for politics. Miles has identified five major reasons that have strong influence on political orientation of organizations.
These are illustrated as under:
i. Scarcity of Resources:
Any person or unit who has control over allocation of scarce resources yields power. Political influence plays an important part in how these resources are distributed to various departments as against the rational need.
ii. Non programmed Decisions:
Resolution of non-programmed decision is a complicated matter as there are no set solutions. These unique problem involves consideration of various factors and variables. They remain ambiguous in nature and subject to political maneuvering by those who have knowledge and techniques to solve them. Politics plays a vital role in organizations to create decisions in favour pertaining to sensitive areas like strategic planning, mergers and acquisitions, policy change and so on.
iii. Ambiguous Goals:
When setting up of organizational goals, departmental objectives and individual task are well defined. There is no room for ambiguity. However there are organizations where these are not clearly spelt out and ample room for discretion exists. In such situations people manipulate decisions and situations in their favour by playing political games intelligently.
iv. Organizational Change:
Organizational change is continuous process. People who are in position to take decision can very effectively influence the decisions. These change may include vital areas like restructuring, creating new departments, launching a new product line, appointment of key personnel at top levels and thus creating a lobby within the organization. This may prove to be counterproductive and harmful for maintaining peaceful atmosphere.
v. Environment:
External environment is highly mobile and generally unpredictable. It is the ability of the organization to meet the challanges effectively by appropriately maneuvering internal environmental factors, technology and processes. Thus political behaviour is heightened when these are managed by interested people.
Rechard (1988) states that "resources are continuously becoming scarce and competitive and the ever changing technology makes the environment more complex to handle, requiring organizations to continuously evaluate their goals and strategies". This would make most organizations political in nature so that managers in responsible positions must become sensitive to political processes and games in order to play their role in acquiring and maintaining political power.
Pfeffer has concluded that "In situations in which technologies are uncertain, preferences are conflicting, perceptions are selective and biased and information processing capabilities are constrained, the model of an effective politician may be appropriate one for both the individuals and for the organization in the long run".
---
Essay # 3. Political Implications of Power:
A. According to Mintzberg (1983):
Mintzberg has suggested the following strategies to wield political power in the organizations:
1. Cultivate Right Allies:
One must have alliance with right people who are rising in the corporate ladder. It is necessary to develop friendship with upper level management. It may also be advisable to form alliance with boss's secretary or someone who is close to powerful person.
2. Be Positive Towards Others:
Human being wants to be appreciated and complemented for any work done. When you appreciate other people they will develop a positive outlook towards you and may be helped when situation demands.
3. Reciprocity:
It is good to help others. Accordingly, recognize those members of the organization who will be more powerful in future. Help them so that they reciprocate the same when you need their support.
4. Be Persuasive:
It is necessary to develop a persuasive technique to get the job done. Forceful agreements when stated eloquently are often highly influencing. It improves your image and substantial pay offs in a future time.
5. Image Building:
One must build a positive image and create good impression in the organization. One must therefore be honest, sincere, attentive, sociable and display an organizational citizenship behaviour.
6. Control Information:
More the critical information and fewer the people who have access to it stronger the power base. It is therefore necessary to control and disseminate critical information when it is likely to have impact and serve self-interest.
B. According to Machiavellianism (1469 – 1527):
Niccolo Machiavelli, an Italian philosopher has formulated a set of behaviour for maintaining political power. Christie and Geis have formulated an attitude scale in conformity with some basic tenets of Machiavelli. The aim of the scale is to measure the extent to which an individual follows Machiavelli views. This scale is known as "Mach Scale".
The characteristics of people who measure high on Mach Scale are as follows:
1. They have high esteem and self-confidence and behave in their own self-interest even at the expense of others.
2. They are considered by others as cool and calculating and that they would not hesitate to take advantage of others.
3. They tend to form alliances with people in power for the sole purpose of benefiting themselves.
4. They believe that "end justify means" even if it involves lies, deceit and moral compromise.
5. They manipulate others by false flatter and exaggerated praise and that they will make friends only for the purpose of using them.
6. They have a very unfavourable views of human nature. They believe that anyone who completely trusts anyone else is asking for trouble.
7. They will not set others stand in the way of their personal gain.
8. They are on the look-out and select situations where their tactics would work most effectively such as face — to — face emotional, unstructured and ambiguous condition.
9. They are able to exert control over such unclear situations.
The above attitude indicates selfish and unproductive in organizational setting. Management must identify such individuals in the organization who muster political power by adopting machiviavellian tendencies and be prepared to take measures to counter their designs. This will ensure healthy work environment.
C. According to Pettigrew (1974):
They identified some behavioural patterns that executives generally use to follow to enhance the political power in organization.
The catalog shown below refers to influence process between specialists and executives.
Pettigrew describes the way specialists credibility is undermined by the executives in Table A below:
Strategies used by executives for enhance the political power in organization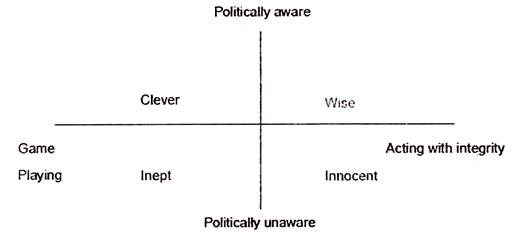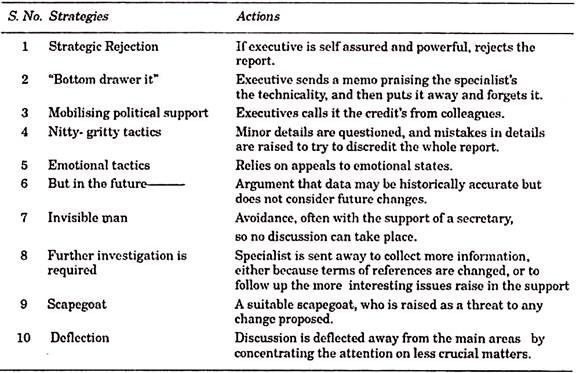 ---
Essay # 4. Behavioural Model—Reading Political Situations:
Political behaviour is of two types first an ethical behaviour which is acceptable and an unethical behaviour. Baddeley and James seek to distinguish between 'politicking' and 'maneuvering'. The former refers to acting in self-defence, self-oriented where people defend their ego by employing tactics which is called 'game playing'.
The latter approach is distinguished by the sense of personal inequity where conscious decisions (choices) are made in different situations.
The other dimension in the organization is political awareness, generally referred to the extent a person is able to understand and interpret the political behaviour in the organization. In simple word, how one is able to 'read' a political situation.
Baddeley and James have suggested the behaviour model of various managers as given in Figure below: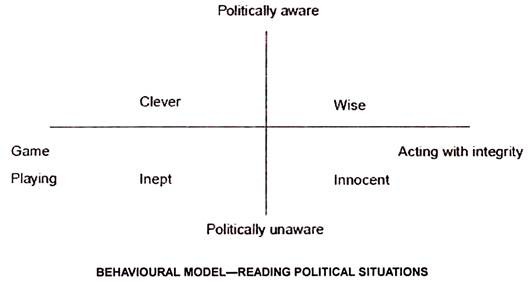 ---
Essay # 5. Dysfunctional Uses of Power and Politics:
All successful companies are successful for different reasons, but dysfunctional companies are dysfunctional in the same way, the main reason for poor organizational performance is not the lack of business knowledge, but rather negative internal politics.
Even fast-growing and profitable companies can develop bad internal politics and unproductive work habits that will eventually lead to declining performance.
It is true that the larger the organization, the more susceptible it is to the breakdown of communication, the emergence of management silos and misalignment.
When management tends to focus so much on one management area, e.g., sales, and has no time to manage the internal organization challenges, dysfunction creeps in and takes hold. To build and sustain high-performance teams, leadership and human resources managers should keep an eye open for the following symptoms and treat the root causes before it becomes too late.
Dysfunctional Power Symptoms and Warning Signs:
1. Dictatorial Leadership:
Management that does not allow disagreements out of insecurity or arrogance.
2. No 360 Degrees Feedback:
There is limited or no leadership performance feedback.
3. Personal Agendas:
Recruitments, selections and promotions are based on internal political agenda, for example hiring friends to guarantee personal loyalty at the expense of other highly performing and more-qualified employees.
4. Political Compensation:
Stock options, bonuses and perks are not fairly linked to performance.
5. Inefficient Use of Resources:
Budgets are allocated between business units or departments based on favoritism and power centers rather than actual business needs.
6. Empire-Building Practices:
Managers believe that the more people they manage and the bigger the budget, the higher the chance that they will be promoted. This results in raging battles around budgets, strategies and operations.
7. Unequal Workload Distribution:
You'll find some departments are underutilized while other departments are overloaded.
8. Too Much Management:
There are many management layers in the organization, thus, hindering communication and resulting in slower execution.
9. Fragmented Organization Efforts:
Interdepartmental competition and turf wars between rival managers lead to the emergence of silos, which results in communication gaps. Management silos almost always result in fragmented and duplicated budgets and projects, thus wasting valuable company investments.
10. Too Much Talk:
Plans are heavy on talk but light on action. In a political corporate culture, image management becomes far more important than actions.
11. Ineffective Meetings:
Argumentative and heated cross-divisions meetings with discussion and language focusing on point scoring and buck-passing rather than sharing responsibility and collaborating to solve the problem
12. Lack of Collaboration:
Every person for himself/herself. Low sense of unity or camaraderie on the team. The key criterion for decision-making is what is in it for me?
13. Low Productivity:
Management wastes more time and energy on internal attack and defense strategies instead of executing the work, innovating and overcoming challenges. Critical projects fall behind on deadlines, budgets and performance targets (e.g. sales, market share, quality and other operational targets).
14. Constant Crisis Mode:
Management team spends most of their time on fire-fighting instead of proactive planning for next- generation products and services.
15. Morale Deterioration:
Muted level of commitment and enthusiasm by other teams. Even successful results cannot be shared and celebrated due to animosity and internal negative competition.
16. Backstabbing:
Backbiting among the executives and managers becomes common and public.
17. Highly Stressful Workplace:
There is a high rate of absenteeism and a high employee turnover rate.
---
Essay # 6. Bad Politics and Performance Risks:
1. When employees feel discriminated against, abused or unappre­ciated, they may resort to one or more of the following harmful options:
a. Defecting to competition
b. Resort to sabotaging the company, e.g., by sharing confidential information with competitors or the media
c. Employees may become emotionally distant and have no interest in the success of the company
d. They will display passive-aggressive behaviors, become uncoope­rative, work less or produce substandard results
e. Key talent will leave the company. Good honest workers generally don't have the skills or disposition for functioning in a highly political environment
f. Company develops a reputation for being political and an unpleasant place to work, making it more difficult to recruit good talent to compete effectively
g. Employees will lose faith and motivation. When the leadership comes up with good initiatives, they are met with skepticism and resistance.
---
Essay # 7. Best Practices for Curing Bad Politics:
Realistically, it is not possible to have a politics-free organization. The desire for power is part of human nature, our business, and our world. Seeking power and politics in any company is neither inherently good nor bad. However, successful leaders know how to leverage politics by setting performance-oriented instead of resources-oriented political goals and rewards. Successful leaders set fair rules for the political game, reward collaborative performance and penalize animosity and negative behavior.
To cure the organization from bad politics, the board of directors and investors can choose from the following list of recommendations:
1. The CEO must recognize the criticality of the political problem and its impact on the business performance. S/he must commit to change and be its leading champion.
2. The CEO can use independent and qualified advisors and facilitators to support the change program (outsiders who have no internal agendas or biases).
3. The CEO must use adequate scorecards and open employee-feedback surveys to assess the health and performance of the management team, and to identify performance roadblocks. The surveys must be anonymous and conducted by independent consultants on a bi- quarterly basis.
4. For valid differences of opinions, consider mediation and arbitration. If that does not work, replace difficult and uncooperative managers.
5. If the existing management team does not demonstrate a true change of heart and policy, then a new powerful leadership must be brought in.
6. If a new leadership is brought in, s/he must be backed by the full support of the board of directors. The new leaders must be given the power to make decisions, hire, fire and end bad politics.
7. The leader must gather the team together and be honest and direct about bad political behaviors and should be willing to back threats with actions. It is important to have the legal counsel be present and announce that those who continue in their negative behavior will be out the door.
8. To quote Gandhi: "Be the change you want to see." The most powerful leaders are almost always the role models for the change they seek. If the CEO practices bad politics, no amount of training or coaching will change the management team.
9. Do not tolerate bad behavior. Realize that both bad and good behaviors are contagious. It is a proven sociological fact that people will imitate the behavior that appears to be socially acceptable, even if it is not their normal behavior. If you allow some people to get away with bad political behaviors, other people will follow.
10. Focus on building a culture of collaboration as part of the management strategy. The process of building a healthy organization starts by creating cohesive teams at all levels (top, middle and line managers). Leverage executive-coaching programs and action-learning teams to solve problems and develop strategies. Learning together helps them to work better together.
11. Conduct company-wide team building workshops, educate teams on professional ethics and train them on people skills, communication, negotiation and conflict resolution.
12. Communicate, educate and build consensus on strategy, direction and performance targets.
13. Once a strategy is agreed upon, design a performance system to motivate and control – include both incentives and penalties. The new system must be aligned with objectives and designed to reward collaboration and penalize silos.
14. Use collaboration tools (Information and communication technologies) between geographically dispersed business units and teams.
---